Mary, Mary, Quite Contrary.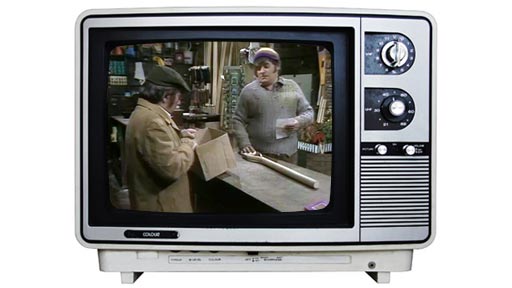 "Planning laws should be changed radically to ensure that retail developments are built in town centres rather than on edge-of-town sites or in the countryside, Mary Portas has said."
Thus spake the Queen of Shoppers. A certain kind of shopper, mind you. The kind that seeks out the latest Adidas trainers, a cut price Gucci handbag, and fortifies itself in the 'World of Flavours' mass nosebag at half time. The clue is in the word 'built' – true shopping nirvana evolves to meet the needs of the local inhabitants, it is not 'built' to entice the the cloned corporates into paying rent.
Long ago, a farmer by the name of Harry Tuffin, acquired premises opposite the local open market on the sheep droving route to Ludlow. 'Why, the very place to sell my wares under cover', he declared.
Being a farmer himself, he understood muddy boots and thrift, so he restricted himself to one light bulb (light bulb, mind, not florescent tube) per gangway; nowt so modish as an 'aisle'. Dimly lit, you couldn't see the mud on the floor; could barely find your way to the pallet of butter – some weeks it was next to the cauliflower, some weeks next to the methylated spirits. Goods arrived as they arrived, and went into any spare space. A hand written sign advised you of the probable price, always negotiable, depending on whether your harvest was in or not – Harry understood his customers.
Opposite was a shop, I forget the name, that sold essentials like needle and cotton, wicks for the hurricane lamps, and if you ventured into the back room, rack upon rack of garments, pushed tightly together. There was no need to walk between the racks, for every garment was identical, only the colour ever changed – what price fashion when your nearest neighbour was five miles away – what you needed, once a year, no more, was a fresh cotton wrap over dress to feed the chickens in; and that was all they stocked.
Up in the big city, Ludlow actually, all of fifteen miles away, things were a little more exotic; there was Boddenham's for the well heeled farmer's wife looking for a county wedding outfit. Boddenham's was a collection of timbered houses, joined together by rickety staircases, narrow corridors, lethal changes in floor levels. Ladies 'undergarments' was discretely hidden in the attic, far away from the noisy farmers admiring the moleskin trousers.
Next door was a tea rooms, a proper old fashioned tea rooms, with an open fire and beams and everything, full of copper kettles, dressers laden with blue and white china, and crumpets for tea. There was a small kiosk by the door where you could pay for your high tea before setting off home. Then there was Rickards, a century old collection of small houses, linked by gloomy passages, every room of which held mysteries of interest only to the man in search of a whatitsname that held the handle onto the milk pail – the brown coated assistants would scurry off in search of a brown paper wrapped parcel that held at least a dozen of such items. They always knew exactly where to find it – hadn't they put it there when they started work 40 years before?
There was Griffiths the Butcher who could tell you which field on which farm your leg of lamb came from, and Wall's, his fierce competitor in the art of sausage making. Proper sausages, full of meat. Perhaps a slice of a 'Stinking Bishop' from across the road – your nose could tell you when it was in stock. Maybe a pint or two of 'Boiling Well' in the Feathers to see you on your way home again.
All these businesses existed because there was a local need for them. They weren't built to 'entice' shoppers into them, they grew organically in whatever space was available, to sell the things people wanted, needed.
Did I make this sound like nostalgia? It isn't. A funny thing happened to Ludlow on its way to 'planning redevelopment'. The Planners discovered that virtually every house, every shop, in Ludlow was a listed building. They couldn't be pulled down, couldn't be altered. The multiples came, looked at the rickety stairs, the narrow corridors, the pokey windows, and said 'where do we put an escalator' – 'you don't' replied English Heritage. 'But we need a 50 foot run of open windows to display our goods, the consultants say it's essential'. 'No can do', said English heritage. 'And a goods entrance for our three times a day deliveries, our lorries can't get down that street'. 'Tough' said English Heritage,'it stays as it is'.
Anyone who knows Ludlow will tell you that it is thriving – it has become a tourist attraction. Not only are all the above businesses still thriving, still supply everything the farming community needs, but many new businesses have started up to serve the literally thousands of shoppers who flock hundreds of miles to come and marvel at an old fashioned High Street that hasn't changed one whit.
It was planning law that prevented any 'redevelopment' of the High Street. Planning Law that Mary Portas wants to see amended so that Ludlow, the only town in England not to have a 'shopping mall', could look the same as all the other down at heel shopping malls.
December 15, 2011 at 21:10










December 15, 2011 at 21:58







December 16, 2011 at 20:42










December 16, 2011 at 22:05




December 15, 2011 at 19:31




December 15, 2011 at 18:12




December 15, 2011 at 16:19




December 15, 2011 at 15:37




December 15, 2011 at 13:59




December 15, 2011 at 13:54




December 15, 2011 at 13:48










December 16, 2011 at 12:18







December 15, 2011 at 13:08




December 15, 2011 at 12:42







December 15, 2011 at 13:13










December 15, 2011 at 13:44




December 15, 2011 at 15:50

December 15, 2011 at 12:33