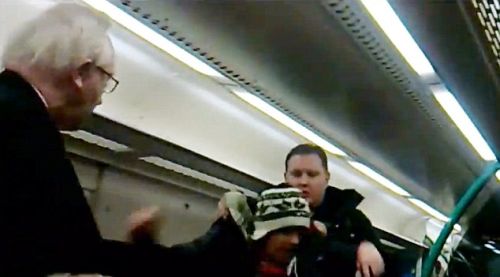 The Peelian principle states that "The police are the public and the public are the police"
So when a member of the public is willing to stand up when something goes wrong rather than stay quiet and hope it disappears if they keep their head down then are they following these principles. Or are they vigilantes?
Recently a video appeared on YouTube of a big man kicking a young lad off a train for allegedly not paying his fare. But though it seems that the lad was a drunk yob and definitely did not have a valid ticket and knew this before he boarded the train so was not in the right, the big man's actions seem not to be right either due to the use of physical violence.
Part of what the police can do which the public can't is that of physical violence. A police officer is allowed to use a certain amount of physical force to carry out their work. A member of the public is not allowed to use any physical force. So the big man's use of force, especially uncontrolled force which lead to the young man falling head first to the ground, might have meant that the situation was terminated, it probably wasn't the best way of defusing the problem on the train.
I heard a retired police officer say that that what should have been done is that when it was obvious that the lad wasn't going to be paying or getting off, the ticket inspector should have informed the driver and got hold of the British Transport police and arranged for them or the real police to sort out the problem. I would also say that taking the lad's photo and using it to identify him could also be a potential step.
Would the big man have done the same thing if this woman was drunk and refused to pay her fare?
So the lad was in the wrong and should have been arrested. But the big man was also in the wrong and could end up being arrested too.
So should that stop others from getting involved in such disputes. Yes and no. No they shouldn't get involved if it's something that the authorities involved should sort out themselves. But they should get involved to the extent that if they see someone who hasn't paid their fare they should do their best to inform the ticket inspector or guard. The more it becomes a social unacceptable act and the more people take note the less of a problem it will be.
December 21, 2011 at 14:07







December 21, 2011 at 18:58




December 19, 2011 at 16:12




December 18, 2011 at 20:44







December 18, 2011 at 19:24










December 18, 2011 at 06:30







December 17, 2011 at 21:04




December 17, 2011 at 11:21




December 17, 2011 at 10:32







December 17, 2011 at 09:19




December 16, 2011 at 17:08










December 16, 2011 at 11:58




December 16, 2011 at 09:04







December 16, 2011 at 06:33




December 15, 2011 at 22:34









December 15, 2011 at 17:24







December 15, 2011 at 17:07







December 15, 2011 at 17:02









December 15, 2011 at 23:19




December 15, 2011 at 16:47