Throwing in the Blogging Towel…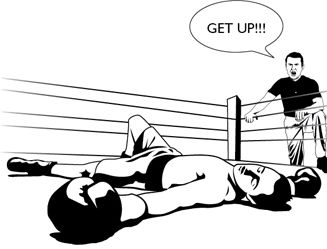 Not I – don't be daft!
I've just become very aware over the past few weeks that less than 10% of my RSS feeds to other blogs have been updated.
Tim Worstall still beavers diligently away at the blogging coal face, as does Subrosa. Guido of course, JuliaM, Leg-Iron, Max Farquar, Witterings from Witney, Dick Puddlecote, but some of biggest names in the political blogosphere have fallen ominously silent.
Some so terminally silent that I have given up hope of their return and stopped following them – others occasionally rouse themselves from their slumber like drunks at a dinner party, to mutter something inconsequential and then fall head first into a blogging stupor once more.
It certainly isn't that there is nothing of consequence happening in the political sphere – few of us are old enough to have ever experienced such dramatic political changes.
Is it that those who once pushed out such erudite posts every day are now content to tell the world 'Watched PMQs, crap again' or pass the odd witty comment on Twitter without elaborating on their thoughts or reasoning?
It cannot be the change of government – both left and right blogosphere appear to be declining with equal rapidity.
Unemployment figures continue to climb – so I can scarcely believe that it that those who once had time on their hands are now gainfully employed.
Is there a blogmonster silently chomping away at the most prolific writers? Consuming the big beasts of the blogging world that once I looked to for inspiration?
I know that inevitably people just splutter to a halt and find themselves repeating old thoughts – but logically there should be new blood entering the field and noisily making demanding attention. Look at any of the blog ranking systems, and all you see is corporate name after corporate name.
The audience hasn't 'upped and left' – my stats continue to climb, no doubt boosted by the fact that better analysts and writers than I are no longer feeding the blogosphere.
Where have all the independent Bloggers gone? Long time passing…
Make yourself known – I am trying to rebuild my RSS feed!









December 10, 2011 at 15:23











December 10, 2011 at 13:51









December 10, 2011 at 13:42