Muff Marching in Marylebone.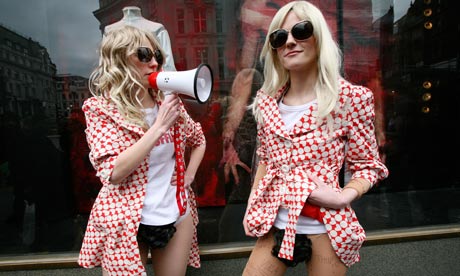 I would dearly love to write fiction – but how can one compete with the truth? The media continue to churn out (reasonably) factual stories that I could not dream up with the help of a gallon of Absinthe…
With the Eurozone disintegrating, wars looming in all four corners of the world, the starving on every continent, and the polar bear population increasing – the Guardian today is promoting yet another 'desperate situation' for the rent-a-protester to attend.
The feministas are congregating in Marylebone demanding 'Hands off our Muffs'. No really, I know the idea had never crossed your mind, but just in case, you are being warned off.
It seems that some women are daft enough, and rich enough, to engage Harley street surgeons to practice 'vaginal rejuvenation, designer vaginoplasty, G spot amplification and revirgination' in a desperate attempt to acquire the perfect vagina.
Quite what comprises the perfect vagina, other than 'ready, willing and able', is not explained.
This of course, couldn't possibly be an example of free will on their part; it is yet another example of women being forced into subjugation by nasty men and thus must be marched against, demonstrated against, campaigned against, by the feminista Muffia. It is being compared to the genital mutilation forced on young girls by some religious practices. *sighs*.
Surely you have overheard a man in the pub telling his wife on his mobile phone, she had better have her designer vaginoplasty by the time he gets home, or else?
Activists will be wearing 'fake muffs' and demanding that cosmetic surgeons 'keep their hands off our muffs'.
We don't buy the neoliberal rhetoric that insists this issue is not political because women "freely choose" to get procedures like this done. The cosmetic surgery industry ruthlessly stokes women's appearance insecurities and mines their bodies to extract maximum profits. Accountability, monitoring, and auditing are not words this industry is used to.
We hope our Muff March will spark a wave of activism against cosmetic surgery and the porn culture which distorts our body image. For too long they've reaped massive rewards. It's time to fight back.
Will we see #occupymuffs trending on Twitter tonight?
December 11, 2011 at 10:00




December 10, 2011 at 23:05







December 11, 2011 at 09:02




December 10, 2011 at 20:44







December 10, 2011 at 20:01




December 10, 2011 at 19:47




December 10, 2011 at 19:44




December 10, 2011 at 18:37







December 10, 2011 at 19:13







December 10, 2011 at 21:48







December 10, 2011 at 18:35







December 10, 2011 at 18:21







December 10, 2011 at 18:19







December 14, 2011 at 12:14




December 10, 2011 at 18:17







December 10, 2011 at 17:58




December 10, 2011 at 17:42




December 10, 2011 at 16:59







December 10, 2011 at 16:17







December 10, 2011 at 16:13







December 10, 2011 at 16:01










December 10, 2011 at 17:52