Deborah, Deborah, what will become of you?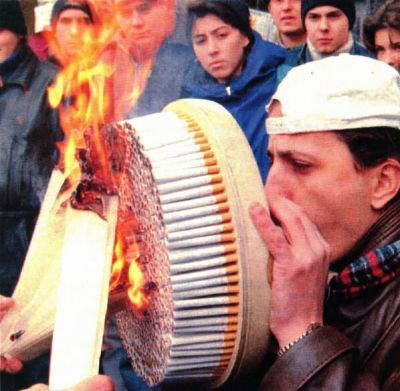 Who'd a thought it eh?
The Dutch government are to abandon the likes of the dreadful Deborah Arnott's Dutch colleagues to public subscription!
No more public money for the anti-smoking lobby. No more free handouts of smoking cessation kits. What is to become of them all? Redundancies loom. A multi million pound industry killed off just like that!
Not that the pharmaceutical anti-smoking industry is being killed off, you understand, their products will still be available for those who want them.
No, what is being killed off is the lobbying industry, the publically funded centre of anti-smoking propaganda.
Deborah and her colleagues are beside themselves, rending their garments and caterwauling hysterically in the Lancet today.
'Smokers are being abandoned to their fate' they wail.
No my little love – not abandoned to their fate, released to the freedom of choice. Anathema to you, I do understand.
"Every death that ensued would not just be the responsibility of the tobacco industry, which continues to promote its lethal product, but also of every politician in the Dutch Government who chose to look the other way and allow it to happen."
Should it prove that next year there are less Dutch smokers than at present, it will sound the death knell for Deborah and her colleagues, a dreadful fate, as you will surely agree.
Despite the ferocious claims in the Lancet article strangely only two of the fifteen authors have declared any conflict of interest in denouncing the Dutch Government for this move.
Deborah wasn't one of them. It's not as though ASH is a publically funded outfit that has anything to fear from a broke British Government following suit is there? All those fervent anti-smokers are bound to send her money to continue her work of their own free will, aren't they?
No? Oh dear.
'Anti-Smoking campaigners are being abandoned to their fate, every redundancy that ensues……'
December 10, 2011 at 17:43







December 10, 2011 at 13:46




December 10, 2011 at 13:23







December 10, 2011 at 01:26







December 10, 2011 at 07:09




December 10, 2011 at 00:18




December 9, 2011 at 22:14







December 9, 2011 at 22:12










December 9, 2011 at 22:33










December 10, 2011 at 11:01










December 10, 2011 at 13:19




December 9, 2011 at 22:04




December 9, 2011 at 22:00




December 9, 2011 at 21:02




December 9, 2011 at 19:09







December 9, 2011 at 19:06