12 Step programme for the Euro?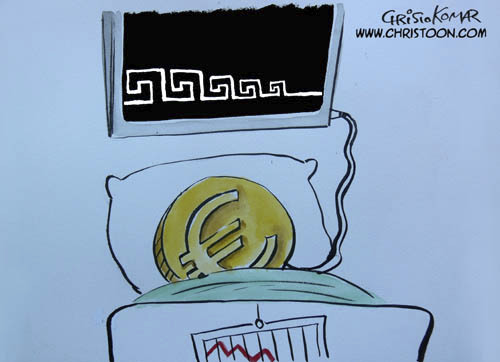 'Tories at War', scream the headlines – naturally they are at war with each other, rather than the enemy at the door. The comments on Conservative Home this morning would be hilarious if the situation wasn't so serious.
There's a burglar in the house pointing a gun at them demanding the keys to the safe, and they are furiously arguing as to whose turn it is to do the washing up and what the marriage contract actually said about washing up duties.
UKIP are noisily recruiting on the grounds that they would give you a referendum – before Friday, folks? Do you really think the markets are going to wait that long?
You can nitpick all you want, quote chapter and verse of the Lisbon Treaty – there is even someone who thinks this is the perfect time to renegotiate the Common Fisheries policy, bless 'em, – blame Edward Heath, Common Purpose, Jewish bankers….they are all out and about in the comments this morning, but the burglar is still pointing a gun at your head, and now you have to make a choice.
Britain is holding at least £180 billion of Greek debt in RBS, Barclays and HSBC – the banks aren't worth that much! Do you really think the Greeks are going to rush to pay us if we are sitting on the sidelines arguing about how many fish the Spanish can take legally, and not signing up to the Merkel plan? Do you really imagine the Spanish will abide by it when they are starving?
A referendum is a wonderful dream, yes, we should have had one, yes, we've been let down, yes, it was someone else's turn to do the washing up, yes, yes, yes.
Are you going to open the safe, or let the burglar shoot you and take the keys.
Your choice.
Which will it be?
*Ms Raccoon is embracing her inner sloth, and will take a leisurely walk down the garden to harvest something for a vegetable curry tonight. Butternut Squash, Red Chard, and some of those dried Chickpeas I think.
Some of us had the wit to put our assets into a small holding with water, some of us had no faith that the policy wonks would ever cease arguing about the washing up. Some of us think there will be nothing left when this lot combusts…some of us are glad we got a gun to shoot the Coypu or anything else with one eye on our Squash patch.
Jeez what a mess!
December 7, 2011 at 00:16




December 6, 2011 at 23:34




December 6, 2011 at 16:33




December 6, 2011 at 15:31







December 6, 2011 at 14:53




December 6, 2011 at 14:20




December 6, 2011 at 14:16




December 6, 2011 at 14:13







December 6, 2011 at 13:48




December 6, 2011 at 12:56




December 6, 2011 at 12:51







December 6, 2011 at 19:34







December 7, 2011 at 16:40




December 6, 2011 at 12:41







December 6, 2011 at 11:49