More benefits of democracy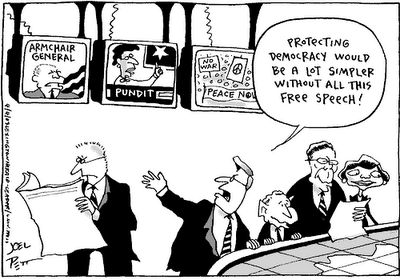 I must state at the outset that I have precious little time for Stonewall as an organisation, as they seem to relish "positive discrimination" and I find Peter Tatchell a brave but rather irritating cock.
Oo-er, missus!
But having said that, I was, quite frankly, astounded by the things I read here:
"Homosexuals can forget about human rights"
– James Nsaba Buturo, former Minister of Ethics and Integrity (!)
"I will never initiate or support any attempts to legalise homosexuality"
– John Atta Mills, President of Ghana
Both of these countries have a form of democracy, although I suspect Uganda's is more window-dressing than actual. But Ghana's democracy is highly rated.
Being gay is still illegal in 80 of 196 countries across the world, being a lesbian is specifically outlawed in 45 – in 6 countries the penalty for both is death.
I don't know how many democracies outlaw homosexuality, but I bet it's a fair few:
According to Freedom House, in 2007 there were 123 electoral democracies (up from 40 in 1972).[47] According to World Forum on Democracy, electoral democracies now represent 120 of the 192 existing countries and constitute 58.2 percent of the world's population. At the same time liberal democracies i.e. countries Freedom House regards as free and respectful of basic human rights and the rule of law are 85 in number and represent 38 percent of the global population.*
All of which just goes to show that democracy can easily be used as a fig leaf for some really nasty aspects of human prejudice and really doesn't deserve the endless veneration it attracts.
December 9, 2011 at 03:07







December 8, 2011 at 16:01




December 6, 2011 at 00:44







December 6, 2011 at 09:25




December 8, 2011 at 14:24




December 6, 2011 at 00:15




December 5, 2011 at 22:11




December 5, 2011 at 21:05







December 5, 2011 at 21:15










December 5, 2011 at 21:42







December 6, 2011 at 04:18







December 5, 2011 at 19:37







December 5, 2011 at 19:47










December 5, 2011 at 19:58










December 5, 2011 at 21:12




December 5, 2011 at 18:07




December 5, 2011 at 18:03