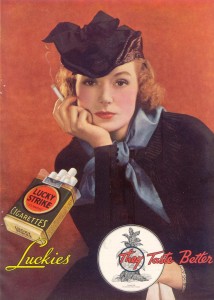 '40% of cancers caused by lifestyle' screams the BBC, a story they have been mainlining on all day – illustrated by a large picture of a smoking cigarette….
Now, only 2% of the population each year get cancer in the first place. Too many, I'll grant you, in an ideal world.
I'd have preferred not to, for sure. As a woman though, and one whose cancer did not originate from smoking, I was fascinated to see that even the Beeb can only attribute 15% of female cancers to smoking.
Let us say women with cancer represent 50% of the cancer riddled population. Or around .06% of the total population…
The anti-smoking lobby make an awful lot of noise considering that you have an 85% chance of your cancer not being caused by smoking.
85% of Female Cancers not caused by smoking? That'll be the day when the BBC comes out with a headline like that!



December 13, 2011 at 09:49




December 8, 2011 at 00:16




December 7, 2011 at 22:57




December 7, 2011 at 22:20




December 7, 2011 at 22:08




December 7, 2011 at 21:03







December 7, 2011 at 19:15




December 7, 2011 at 17:51




December 7, 2011 at 16:47