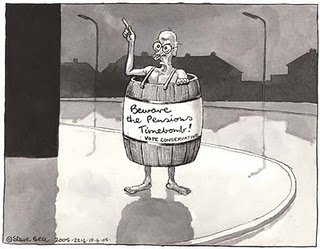 Last Friday, the Portuguese Government quietly filched almost £5 Billion pounds from the pension fund of Portugal Telecom which was sitting in the vaults of four Portuguese Banks, and added them to the country's assets in order to bridge a gap needed to meet the fiscal deficit target of 5.9pc of GDP set by the terms of the country's €78bn bail-out.
Robert Maxwell set the trend for robbing pension funds, Gordon Brown merely followed suit. Sweden did the same, back in the 90s. Ireland raided its pension funds to the tune of £78 billion.
I wondered which feather bedded national industry might have a pension fund of sufficient size that the Chancellor would soon be glancing an envious eye over. Why not the BBC? We have been paying for them for years. From 'Strictly Come Dancing' to the shortwave Hindi services in Andhra Pradesh we wonder what they do with their licence fee that actually benefits those of us who pay it.
Their pension scheme is an eye opener. They get 1/60th of their final salary – you know, the promotion they acquired 18 months before they retired, for each year up to 40 that they have worked there. If your last job paid £60,000 a year – and you would have to be pretty thick to have been with the Beeb for 40 years and not been able to progress beyond £60,000 a year! – then you will retire on £40,000 a year – with an annual automatic 10% increase. You will keep your 30% staff discount on all purchases via the BBC, as will your widow or civil partner. You will benefit from all the outreach schemes that the liberal minded BBC can devise – from counselling to Christmas parties, from free newspapers to benevolent funds if you cannot manage on your £40,000 a year – even a free visiting 'listening ear' service if you just want to whinge about how unfair it all is.
This morning it was revealed that 23.5% of BBC staff don't believe there is a God! Atheists to a man.
The BBC employs more atheists and non-believers than Christians, an internal 'diversity' survey has found.
Why do we fund their pensions with such Christian charity? They are hardly 'lowly paid public sector workers' who accept lower wages in return for the security of a later generous pension? They have done more to fuel the 'cuts' myth than any other body.
Let's raid their pension fund; which body would be next in line for you? Come on, the country needs the money!
December 5, 2011 at 05:32




December 4, 2011 at 22:06










December 4, 2011 at 22:28




December 4, 2011 at 14:17







December 4, 2011 at 15:19




December 4, 2011 at 14:00




December 4, 2011 at 12:01




December 4, 2011 at 11:51




December 4, 2011 at 11:33










December 4, 2011 at 22:15




December 4, 2011 at 11:04







December 5, 2011 at 15:03







December 4, 2011 at 10:58










December 4, 2011 at 11:17










December 4, 2011 at 19:00




December 4, 2011 at 10:01










December 4, 2011 at 21:42










December 5, 2011 at 08:54