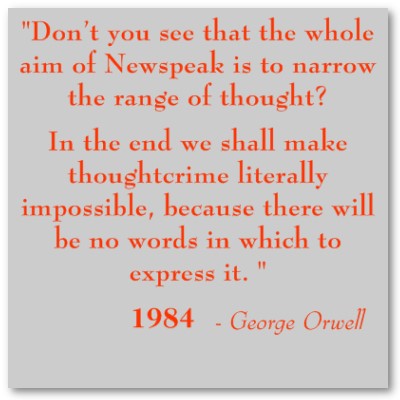 Hand wringing Liberals are the undoubted masters in the use of disingenuous language.
First we had the ubiquitous 'joy riding' to describe theft of a motor car, the property of someone who had paid for it and expected to be able to use it, by (generally) an unemployed youth who could see no good reason why he also shouldn't drive a fancy car when he pleased.
Now we have 'honour killings', a term much employed by the BBC recently, to describe murder when committed by a person originally from foreign shores. No native English father chopping his daughter up into small pieces and putting them in a suitcase would ever be dignified by such a term as 'honour', whatever his reasons for disposing of his daughter.
I have deliberately avoided the use of the term Muslim, as carefully as the BBC do – for there is no evidence that this is exclusively a Muslim 'crime'. So called honour killings are a crime born of societies where women are considered property, and life is cheap – they are not exclusively Muslim societies.
I was amused to see just how carefully the BBC avoided offending Muslim sensibilities, by conjuring up a voxpop from a gentleman, who, though one cannot judge purely by appearances, gave every indication that he might be of Pakistani origin, who solemnly informed us that 'Kurdish and Somalian communities must take on board the message that 'honour killings' are unacceptable'.
Perhaps a first step would be to remove the term 'honour killing' and establish that all gratuitous violence, whether resulting in death or not, is unacceptable in Britain.
It matters not whether you have stabbed the man in front of you in the queue at MacDonald for his iphone/hamburger/or looking at your girlfriend; it matters not whether you have chopped your daughter into pieces because it is the ancient custom of your village or because you had been abusing her and she was now old enough to not kiss – and tell.
We too have ancient customs – we call murder 'murder'. I see no reason for a sub division of murder or domestic violence for any sector of the community.
Whilst I am in full flow on the subject, and just to even up the debate – we have another ancient custom in this country. It is the art, as practiced by young men for generations, of getting young girls intoxicated for the purpose of having sex with them. Yet this activity too has been hijacked by the language manipulators, this time on the right.
We used to protect our young girls by 'walking them home', warning them that young men were 'only after one thing', and discouraging them from drinking alcohol – now that 'Asian gangs' have joined in with this ancient craft of 'getting her pissed and getting your leg over' – we have a new word for it – 'Grooming' – and are apparently to take on board the idea that it is solely practised by 'Asian gangs'. Hmmn.
We used to have another term – 'Pimping' – to describe the young men of English origin who then handed the girl over to their friends and acquaintances for sexual enjoyment in return for money. To read the media, you would think that this was invented by 'Asian gangs'. They do not deserve the credit for inventing this means of filling your wallet – it has been around for generations.
I can think of little more divisive in society than that we should be encouraged to categorise horrific crimes into 'white' and 'non-white' crimes. Yet it is the squeamish, hand wringing, equivocating, apologetic liberals on both sides of the great political divide who are doing so.
Say after me, murder is murder, it doesn't suddenly become imbued with 'honour' because you come from some God forsaken village that none of us have heard of; nor does it suddenly become a 'hate crime' because the victim is black. Theft is theft, it doesn't suddenly become 'relieving your frustration with the police' because someone of your colour was killed by a policeman.
The race industry is possibly the most divisive invention since communism. Yesterday a young man was chased down the road by a gang and stabbed to death. Was it because of the colour of his skin? We will never be told – his skin was white. Was it because the gang which chased him was 'inherently racist'? – That will never be said – they were black. Don't hold your breath for 20 years of navel gazing – that young man is dead and that is all that will be said.
There is an ideology purveyed by the multi-culturalists that says only white people can be racists – that being in the majority and taking action against a person of colour is the only definition of racism.
Tell that to the children of Darfur. They have yet to witness a white person hacking their parents to death.
December 8, 2011 at 21:00




December 7, 2011 at 12:21







December 6, 2011 at 09:45







December 6, 2011 at 08:52




December 5, 2011 at 18:32




December 5, 2011 at 17:34




December 5, 2011 at 14:52










December 6, 2011 at 17:02




December 5, 2011 at 13:58