This is the Winter of our Discount Tents.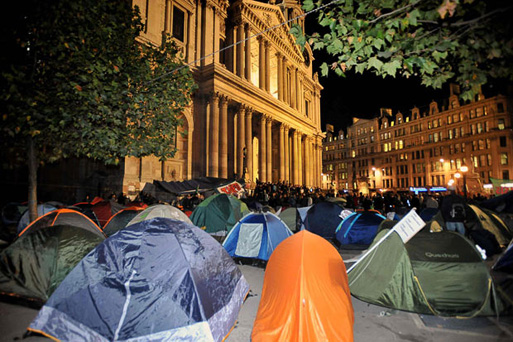 I wonder what Julia Reynolds thinks as she reads the daily papers, sated with pictures of the tented '99%' busily focussing media attention on the in tents debate regarding corporate greed and those companies that form the London Stock Exchange?
Does she appreciate the irony as she prepares to spend another day as Chief Executive of a lsx listed company that is struggling to maintain sales in the present economic crisis?
Does she wonder whether the latest whiz bang wheeze of the Coalition Duo will help to boost sales? I refer of course to their wonderful idea of arm wrestling the tax payer to lend 95% of the purchase price of a house to those whose finances are so rocky they cannot afford to save, say, another 5% of the purchase price?
I am told, by those whose maths is better than mine, that if interest payments rise by 1%, the unlucky 5% owners will have to find another £83 a month from a budget that could spare nothing for further savings…
What will happen to them when they are repossessed; when their new home is sold at a discount to allow others to buy it at auction and rent it out to, to whom?
Will they rent their old house, or someone else's old house, on housing benefit provided by the tax payer, or will they turn to Julia as a solution to their problem?
Will they join the @occupylsx crowd in their discount tent campaigning against the corporate greed of those such as Julia, struggling to maintain the jobs of her employees?
Employees whose main function is to flog – discount tents to the discontented.
Welcome to the rabbit hole down which you will find Julia Reynolds, the new Chief Executive of Millets.
Remember Millets, in business for 130 years; where we used to go to buy our Levi jeans, bath, sitting in, use of; back in the 60s when we were just pretending to be skint share croppers?
They are on the bread line now; forced to renegotiate a 35 million bank loan with Royal Bank of Scotland, you know, that happy institution owned by the unhappy tax payer, to lend them money to flog cheap tents to those who would see them out of business.
Verily must Ms Reynolds head spin on mornings like this.
Truly must the conversation with the people traffickers be a wonder to behold.
No, no, no Iqbal, you don't have to worry about being an illegal immigrant now, I know you heard that you had to be legal to get housing benefit and work, but now nice Mr Briton give you money to buy house, no questions asked. You buy house, rent it out to asylum seeker, come back here and give us rent, simples?
November 27, 2011 at 18:57




November 25, 2011 at 12:21







November 23, 2011 at 07:52




November 22, 2011 at 22:57










November 23, 2011 at 09:36




November 22, 2011 at 17:39







November 22, 2011 at 22:17







November 22, 2011 at 17:38




November 22, 2011 at 14:11




November 22, 2011 at 13:49




November 22, 2011 at 12:45




November 22, 2011 at 12:23







November 22, 2011 at 12:42




November 22, 2011 at 14:22




November 22, 2011 at 11:07







November 22, 2011 at 10:27










November 22, 2011 at 09:07