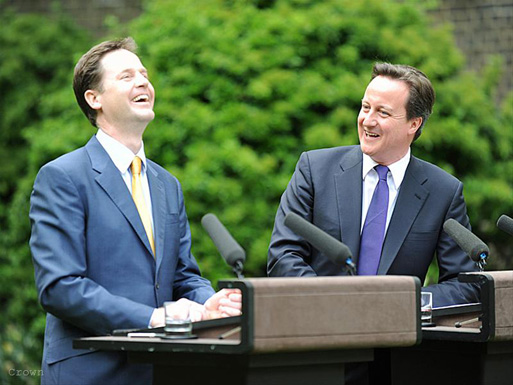 I don't understand it at all. Help me out here folks!
Whilst those who would seize any opportunity to get 'out from under the thumb of Brussels' are happily chortling that having iDave and Vague in the House for this debate on Monday:
This House calls upon the Government to introduce a Bill in the next session of Parliament to provide for the holding of a national referendum on whether the United Kingdom:
A) Should remain a member of the European Union on the current terms;
B) Should leave the European Union;
C) Should re-negotiate the terms of its membership in order to create a new relationship based on trade and co-operation.
Appear not to have noticed 'when' the next session of Parliament is…you did remember that the laughing duo cancelled the Queen's speech in October didn't you? They still get their autumn hols of course, but even if the debate is won, and careers wrecked by voting in favour of it – nobody will even start talking about it before next summer. Just saying like.
Apparently off the British media's horizon, there are strange goings on in Euroland that defy explanation.
The Dutch are advocating sending a strong arm team into rule Greece. Forget Sovereignty and all that.
"You need someone who can speak Greek but who is not on the side of the Greeks," said the source. "Their powers would be tied to the conditionality of the loan. It has to be presented carefully — call it technical assistance or something. You can't trample all over them."
Remember Greece, the little country that had a civil war not that long ago – one that the right wing Colonels theoretically won, but was never really settled, except they shut the communists up by giving into all their demands, that one.
Well, sorting out the 'drachma made into a crisis' over there is going to involve taking away 20% of the baubles that the communists were given courtesy of some long term loans from the rest of Europe in order to foster the impression that we didn't have war in Europe any longer, and the communists aren't taking it lying down.
What we are seeing is the opening salvo in the continuing civil war. 'We keep our baubles or else'. Which is a bit of a problem for the remaining right wingers….
Into this mess, steps France.
Now if you had a billion pounds worth of high tech state of the art radar defying warships to sell – who would you sell them to? Even Mr G managed to come up with the answer 'someone with a billion Euros'. Logical enough.
What isn't logical, at all, unless France has become a wholly owned subsidy of 'Sofas are us' whilst I was asleep, is that you would sell them to the greatest ship building nation of all time who is catastrophically broke. Like Greece.
You certainly wouldn't sell them on an incredible 'nothing to pay for five years' plan – and then add the rider, 'if you don't want them in five years time you can give them back and owe us nothing'…..
Anybody care to speculate as to what is going on here? What is Cameron and Clegg so damn cheerful about? Are they all about to sail off to China when the bubble bursts?