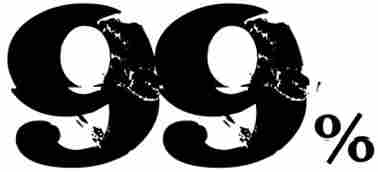 I have watched, with increasing amazement, the occupation of various "symbolic" venues by people representing "99%" of society, in protest against the greed of the remaining 1%.
I don't know who this mysterious 99% is, because 99% of the people I know think that the occupiers are f***ing idiots. And the only symbolism I can find is that the protestors are symbolically disconnected from reality.
The same people who have organised these occupations to protest against greedy, multi-national corporations have used products and services provided by greedy, multi-national corporations to do the organising. In a spirit of proletarian equality, groceries are being delivered to the occupiers by Ocado. Trendy hipsters sporting stupid beards and casually dressed in Armani are complaining earnestly about rampant capitalism. Smug idiots are delivering utterly vacuous platitudes to camera.
If I didn't know better, I would swear that the whole thing was a Brass Eye parody.
Thaddeus J Wilson
October 20, 2011 at 08:34







October 20, 2011 at 11:33




October 20, 2011 at 08:02




October 20, 2011 at 07:19




October 19, 2011 at 20:04







October 19, 2011 at 14:06




October 19, 2011 at 14:02




October 19, 2011 at 13:47




October 19, 2011 at 13:17







October 20, 2011 at 12:26









October 19, 2011 at 14:12




October 19, 2011 at 12:11







October 20, 2011 at 06:17




October 20, 2011 at 13:53