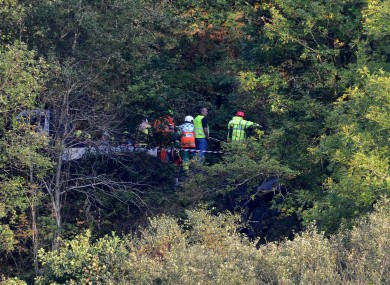 There is a folk lore image of the down-trodden miner, coal grimed face, singing 'Men of Harlech' as he is forced down thousands of feet underground with hundreds of his fellow men for the exclusive benefit of a fat uncaring controller – the unacceptable face of capitalism writ large.
It is much promoted by those who would win the votes of South Wales. As much a part, and rightly so, of the national psyche as the freedom fighters of the Irish border lands. It is an image, a snapshot of the past. A truthful image – at that time.
However, the modern coal mining industry is somewhat changed. I have been looking into the sad events at the Gleision Mine in South Wales last month. Whilst the families concerned have my sympathy, as does everyone else who grieves for lost loves, no matter how they died, it is important to see the known facts of the Gleision events clearly.
Mining itself, is no longer a nationalised industry, however the 'State' still owns the coal – so in order to extract it, you require a licence – and must comply with Health and Safety legislation, and also pay a nominal amount per tonne extracted to the privately company Mines Rescue Service Limited.
Some of the larger mines, such as those owned by the British Coal Corporation produce millions of tonnes a year and their 18p a tonne contribution towards the Mines Rescue Service (MRSL) provides a million plus towards the cost of the specialist rescue services.
Even so, the total of all mining contributions towards MRSL is only 14% of MRS's revenue – they have been admirably adept at diversification and are now one of the largest suppliers of Health and Safety training courses in the county. They are a Not For Profit company, so this allows them to subsidise their contractual duty to provide specialist trained staff to assist in mine rescue.
So, armed with the background knowledge, we are set to march off to the Gleision mine – come on, you can manage a verse or two from 'Men of Harlech'!
Round to the back of the tiny village of Cilybebyll to a fork in the road, along a narrow lane up the hill until far above the River Tawe we find – just a hole in the ground. A drift mine is just that, one reached by foot, no 'cage', no looming 'pit wheel', no 'office', no 'time machine', no owner reaching over his vast corporation to check the time on his gold watch – just a hole in the ground.
Unseen by the rest of the village, every day, whenever the coal price was supportive of such activities, a bare half dozen or so men would walk into that hole, and descend to the inner workings, where they must kneel to extract the coal.
They have not been overly successful recently, their returns to the authorities show that they were extracting barely 1000 tonnes a year, virtual pocket money. Back in 2001 they were recording 200 tonnes a week. Their contribution to the Mine Rescue Service last year amounted to £1,800 pounds. In some recent quarters, contributions, based on their self-filed records of extraction, amounted to just £86.
A 15 tonne lorry was employed to haul their coal back to civilisation. Applications were refused to employ a larger lorry, a surprising application, given the level of extraction. Refused just the same on the grounds of the poor access road.
There are only three such mines operating to day in South Wales. By coincidence, one of them, Blaentillery No 2. is owned and operated by the two sons of Dr Malcolm Blandford, a consultant geologist who acted as agent for 'Coal Direct Ltd' when they applied for an extension in 2009 to extend the old Gleision seam.
By the time the application was successful in 2010, 'Coal Direct' had gone bust with debts of £240,000 and the mine was now owned by 'MNS' another local private company. Local people, local well informed members of the mining community, had opposed the extension because the flooding problems were well known in the area. Dr Blandford handled the application well; MNS was given permission to continue, on condition that they installed complex and robust water management systems including dykes, drainage and pumps.
What we are talking about here is not a large scale mining venture with modern equipment, and capital to employ modern day health and safety backups, but a legal licence by which half a dozen men can extract a resource from the ground and sell it on locally. The amount which they extract is monitored, another inspection was due shortly – the last one was last year…..in between times they fill in forms, declare their revenue, and continue to operate on a shoe string.
Whether the 'complex and robust' water management system had ever been installed we shall not find out until the investigation is complete. There has not been another inspection since that condition was imposed.
Gleision required copious amounts of diesel to keep going, the shafts flooded frequently, and thirsty pumps were employed whenever the men were below ground. Now we are getting to the nitty-gritty. When the mine flooded with such devastating results, there simply wasn't enough diesel left at the surface to allow the many trained men who flooded into the area to help out their colleagues to work with any level of safety. Nor to pump out the deluge which had entered the mine.
Much has been made, by Peter Hain MP in particular, of an alleged 'squabble' as to who was going to pay for the extra diesel required.
The Finance Director of Mine Rescue Services Limited, David Lumley, who I spoke to earlier today and who has provided much useful background information for this post, tells me that 'there were never any discussions as far as we were concerned' – not just no 'squabbles' but no 'discussions'.
Mr Lumley supervised the finances of a well rehearsed pre-planned operation. The nearby much larger mines of Aberpergwm and Unity provided volunteer mining specialists, for whom they paid the wages, and also the huge quantities of diesel and extra pumps required for the rescue efforts. This is as was to be expected. The Mine Rescue Service is a joint effort, between all mines, and subsidised by the Health and Safety courses.
No surprise to anybody –except Mr Hain, who has not merely been a local MP, but a Minister of State in the then ruling Government for 13 long years.
Hopefully, during the investigation, it will be found that MNS, the current mine owners do actually hold a public liability insurance, as required by law, which will recompense the local mine owners for their investment in diesel – perhaps not 'within a month', 'no idea if they will be paid or not' as Mr Hain would have you believe, but, if not, eventually from within the joint budget of the Mine Rescue Services.
Yesterday, the mine manager at Gleision Colliery, Malcolm Fyfield, who was himself injured that day, was arrested in connection with the deaths of the four miners. The law requires managers to employ a surveyor whose job it is to provide maps of nearby workings so miners can work a safe distance from them. Regulations state mining should not be carried out within 45 metres in any direction, of a layer of rock containing water, or any disused workings that are not linked to mines. Nor are miners supposed to work in tunnels within 37 metres of any disused mine workings.
Now Mr Hain is calling for a system whereby half a dozen men, operating a laudable local bit of free enterprise, which does admittedly carry horrendous specialised dangers, should be able to call on the tax payer at large to provide, over and above the normal emergency services to which we all contribute, sufficient funds to cover any eventuality, and trained personnel on standby 'just in case'. He demands that the Mines Rescue Service 'be properly resourced and provided with access to the Treasury reserve so that its rescue and investigation duties can be properly and professionally discharged without the chaos and dependence upon local goodwill evident at Gleision'.
"Otherwise, should there be another tragedy, both the rescue and investigation could be badly compromised," Hain said in his report. "Only goodwill prevented that happening at Gleision."
Cobblers!
No doubt there are many within the mining industry who would prefer not to pay the 18p a tonne levy, would much rather it was shared amongst taxpayers – it would make their own operation much more profitable – remember the million pound contribution from the Notts area to this fund?
Would Hain extend that demand to all elements of free enterprise? What about the risk of coronary disease, suicide and hypertension amongst self employed stock brokers in these days of banking crisis? Does he think the taxpayer should be setting aside money to support them over and above the regular services?
Or does his largesse with our money only extend to his own specialist subject of 'emotive pleas in support of my electorate'? Why did he do nothing about this problem in those long years of Labour governance?