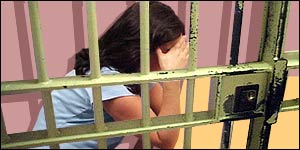 Please note: this post has NOTHING to do with my anarchist beliefs, and is made in the context of current societal norms.
I attended an interesting debate and discussion on Wednesday: "Women – unheard voices in the rehabilitation revolution". I went because I've met Farah Damji and I've been impressed by her enthusiasm for reforming prison (presumably because she's seen it up close and personal.)
So I went to the debate, chaired by Jonathan Aitken and starring a number of famous less famous experts on prison matters including Imran Khan (bête noire of the prison establishment since the Stephen Lawrence inquiry), several who worked for the criminal justice system (including the head of the Prison Governors Association and someone from the Centre for Mental Health), several of their current and former "service users"* and a vast array of charities who work around the edges of prison to make it possible for people coming out of prison to get back into society.The venue was surprisingly full, people were actually standing in the aisle.
Now, I'm sure it will come as no surprise to you to hear that I'm broadly unsympathetic to criminals of all genders, but my bullshit detectors didn't go off very much during the debate, so for the purposes of the discussion I'll be impartial about the sort of things that caught my ear. (I must stress the lack of bullshit: I was largely impressed by people not trying to weasel their way around stuff or promote this or that agenda.)
First and foremost, although the number of women in prison is quite small (around 4500, if I remember correctly, out of a total population of just less than 90000) women are far more likely to get a custodial sentence than men. Things that would get men a community service sentence or some other fucking pathetic slap on the wrist, would almost certainly get women jail time.
Secondly, most of the women who do wind up getting jail time have children, who are then secondary victims of their mothers' winding up in jail.
Thirdly, there are very few women's (and young offender's) prisons, so women who go to jail are, on average, twice as far from their families as men.
Many other factors were mentioned, including that many women are victims of domestic violence, which leads to them committing crimes.
The consensus of opinion was that prison was excellent at the task of punishing people, but absolutely dire at rehabilitating them.
There was a case made for "pre-emptive" interventions, such as removing women from abusive relationships (which filled me with horror) and alternative approaches to rehabilitation. These rehabilitation programs are often vastly more effective at reducing recidivism than prison is and they are cheaper than prison.
The consensus of opinion was that many women could be spared from going to prison at all, or if diverted to specific rehabilitation programs, they could be rehabilitated much more effectively, reducing the risk of recidivism.
It seem like prisons have very few programs available to reduce this risk, and they are run infrequently, leading to the awkward situation where a prisoner may have to stay beyond their term in order to complete the program, or sometimes even start their program!
So, taking all those points at face value (I'm not going to argue over specific points, I simply don't know enough), it seems pretty fair to say that women who do wind up in prison get a raw deal.
And since I believe in the rule of law being applied fairly and I believe in minimising the cost of prison to the taxpayer, I'm happy to point everyone at this e-petition and also to ask you to sign it.
*Criminals
Comedy moment of the evening was provided by a hapless BBC hackette, who, after hearing grumbles from the audience about governments pandering to the Daily Mail and tabloids, stood up to declare that the BBC had no agenda and was only interested in finding the truth. Even among a right-on group of outreach coordinators and third-sector nabobs, it was only the innate politeness of the audience that stopped a raucous outburst of laughter.



September 28, 2011 at 22:59







September 20, 2011 at 01:59




September 19, 2011 at 23:04




September 19, 2011 at 19:32










September 19, 2011 at 13:51







September 19, 2011 at 12:30







September 19, 2011 at 12:26







September 19, 2011 at 12:22







September 19, 2011 at 12:28




September 19, 2011 at 12:53




September 19, 2011 at 12:14










September 19, 2011 at 16:16







September 19, 2011 at 11:51







September 19, 2011 at 11:34




September 19, 2011 at 11:27







September 19, 2011 at 10:55







September 19, 2011 at 10:18







September 19, 2011 at 09:59