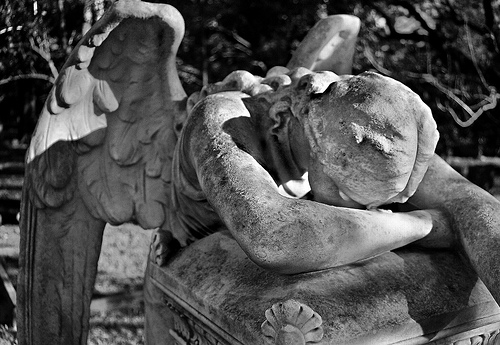 The reporter assured us that he thought he saw a tear in Peter Hain's eye. The last time something resembling that was spotted, it was the day he announced his resignation after the police launched an investigation into donations to his campaign fund.
What could have occurred of similar magnitude?
Four Welshmen dying in the same place at the same time from the same cause, apparently.
A sad event, a tragedy for the families concerned, undoubtedly. But why is the 'whole nation mourning with them'? Four Welshmen dying in disparate accidents doesn't have the entire nation mourning. It is of interest only to four welsh families and their friends and colleagues.
Is it because all four died in a tough and dangerous job? An average of one construction worker a week dies in his workplace – somewhat more dangerous than being down a mine, I would wager. Every ten days an agricultural worker dies in his place of work. Every two weeks someone in the manufacturing industry dies. Surprisingly, a 'service sector' worker dies every week in his place of work. Those call centres are dastardly places.
If I were one of the families who had lost someone in the past week in a place of work' accident, I would be mightily pissed off by the extensive coverage of the four Welsh miners, why isn't the whole nation mourning with my personal tragedy? Is my East Anglian butcher recently extracted from a mincing machine worth less than a Welsh miner?
Is it because they were killed unexpectedly? What of the ten people murdered every week in the British Isles? Did they go out that morning 'expecting' to get killed?
Why is it that the media goes into overdrive at the sight of more than one person killed in the same place at the same time? The local MP turns up to give homage, community leaders appear out of the woodwork? Every last person with a tenuous link to the deceased is given their ten minutes of air time to explain how devastated they are at the loss of their darts opponent?
Do they ever consider how insulting their words are to those who sit alone and mourn their own loss – simply because they had the misfortune to die in a hideous accident that didn't involve their colleagues?
We barely accord this much coverage to those who actually do die on our behalf – the armed forces in Afghanistan.



September 17, 2011 at 20:25







September 17, 2011 at 16:32









September 19, 2011 at 13:20







September 17, 2011 at 16:20




September 17, 2011 at 15:16







September 17, 2011 at 15:35







September 17, 2011 at 17:44










September 17, 2011 at 20:36




September 17, 2011 at 14:57




September 17, 2011 at 13:44




September 17, 2011 at 13:03










September 17, 2011 at 12:43




September 17, 2011 at 12:38