Lord Hanningfield Freed? Not so fast, my lovely!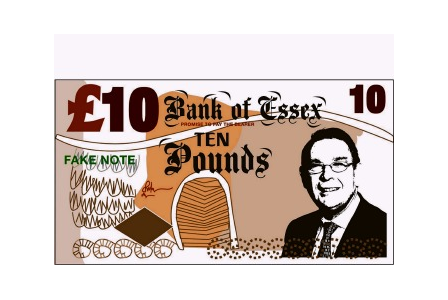 Not so fast, my lovely, that electronic tag on your ankle was put there for a reason – so they would know where you are.
Last week Hanningfield was released from jail after only nine weeks of a nine month sentence on a home detention curfew. This means he was seen as low risk but must wear an electronic tag.
After Hanningfield, the Essex Pig Farmer who still dresses the part, was jailed for fraudulently claiming nearly £14,000 from the House of Lords at an eight-day trial in May, Essex County Council successfully rushed through emergency legislation to suspend his privilege of an £11,500 county allowance while behind bars.
Disgruntled Country Council staff had compiled a dossier of damning evidence concerning his County Council expenses claims.
Last night their hard work came to fruition as an Essex police spokesman said:
"A 70-year-old man from the Chelmsford area has been arrested…for fraud as part of an investigation into expenses claims at Essex County Council.
"He has been released on police bail until January 18, 2012 pending further inquiries."
The council now plans to publish a full itemised list of transactions made by Lord Hanningfield on the corporate credit card as soon as Essex Police finish their investigation into alleged expenses fiddling at County Hall.