Pompous Letters from Pompous Lawyers about Pompous Politicians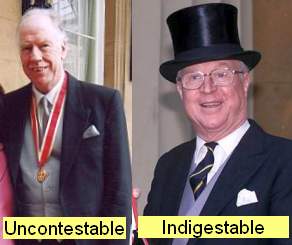 It's the middle of the weekend and I currently have two curious puzzles:
Understanding the strange habit of scandal sheets of going to town on Miss Colombia sans knickers while applying a little star to the (almost non-existent) area of offending quim and roughly three hairs. Personally I find I am more offended by metaphorical twats than real ones, but perhaps they are after the Japanese market.
Trying to find out why, on or around April 26th 2010, Dr Evan Harris suddenly started to imply that his critics were comparing him with Josef Mengele when they referred to him as Dr Death, having not – to my knowledge – made the same implication over several years previously, in fact being intensely relaxed about the nickname.
However, the sky brightens and life becomes interesting again.
Pompous letters written by pompous libel lawyers on behalf of pompous politicians have ridden back into town.
Yee-ha, sheriff !
And, once again, Schillings the lawyers are the hired gunge. (No, Keith, we haven't forgotten; nor will we forgive easily until we have a rational set of defamation laws.)
This time it's Sir Stuart Bell, Labour's answer to Sir Nicholas Raymond Winterton, albeit in Middlesborough not Macclesfield, who may be about to join Sir Nick in the journalistic hunting lodge of history as a wall-mounted dinosaur.
But he's going down fighting.
The story is that the Middlesbrough Evening Gazette has made certain allegations about MP Sir Stuart Bell's inability to be contacted by Constituents, and that his penchant for spending much time in Paris (Legion D'Honneur, no less) may have interfered with the representation of his people.
The peasantry of Middlesborough have quite a few opinions about Sir Stuart; how ungrateful of them.
Guido has a letter Schillings have sent out on behalf of Sir Stuart Bell, which tells the world that it is Sir Stuart's opinion that the stories are wrong:
The allegations that have been levelled against ourclient in a number of these reports include the following:

1. That he has not held surgeries for his constituents for 14 years

2. That when reporters posing as constituents made 100 phone calls to hisoffices their calls and messages went unanswered

3. That he lives in France("the Allegations")

We are instructed that the Allegations are untrue and therefore publication of them is potentially actionable in libel.
that Sir Stuart's opinion is also that the real position is entirely different:
Our instructions are that the correct position is as follows:

1. Our client meets regularly with his constituents by appointment

2. Our client has no record of any such calls or messages. This is surprising given that his private office is run by three full-time members of staff and the fact that the House of Commons switchboard is open 24hours a day all year round.

3. Our client does not live in France. He does not even own or rent a property there. He has lived in Middlesbrough since November 1981.
and that in Sir Stuart's opinion all those nasty newspapers ought to delete the story from their websites:
Whilst we trust that now you are on notice of the true position you will not publish these false and damaging allegations or any similar allegations, we must reserve all our client's legal rights. If you are currently publishing such allegations on your website these should be removed promptly and notification provided to us. Failure to do so will seriously aggravate the damage being caused to our client by publication of these false allegations.
I somehow don't see that happening any time soon. This story has been covered by the Mirror, the Independent, the BBC, Sky, the Press Gazette, Politics.co.uk and others.
The thing that fascinates me about these letters is that Sir Stuart Bell seems to think that spending lots of money (our money – is it on Expenses?) paying a lawyer to regurgitate his own opinion will make a real difference.
Yet you don't alter facts by instructing a lawyer with a repuation to write a letter "instructing" that they are not facts.
In this case the letter – as you would perhaps expect – noisily refutes a few refutable symptoms, and leaves relevant underlying questions unanswered. It could almost be an Alistair Campbell briefing.
For example, Sir Stuart Bell asserts that he doesn't own a property in France. But did he used to own one? Does anyone else in his family own one? Has he transferred one to someone else? Or even, does he control a company which owns one?
I can see Sir Stuart making some headway on the "no contituency surgeries" angle, if he can show effective constituency work, even though some of his constituents don't seem to agree that he is available.
This type of letter is simply a way of making people susceptible to pressure do what you want them to do. In the words of the Schillings website:
Put simply, we use the law to protect the reputations, privacy and confidentiality of our clients, helping them and their advisers to manage what is published and broadcast about them.
That is not quite right.
They don't use the law, they use the shadow of the threat of the law to intimidate people their clients wish to bully.
Roll on libel law reform, such that legalised bullying will be more difficult.
Fortunately in this case, in the shape of Rosie Winterton, Labour Chief Whip (on the right, with entirely gratuitous knee-high leather boots) is investigating.
But the facts that Sir Stuart only spoke in the House of Commons 11 times last year, and took part in only 40% of votes, may prove a little difficult to explain.