What the XXXX factor! – Fixed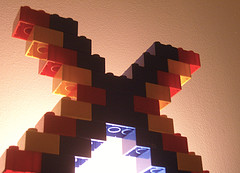 As most readers will be aware, the TV behemoth that is "The X Factor" has returned to the Saturday night slot (with repeats and add ons such as "The Xtra Factor" spread over most of the week).
Of course, with my quite literally first class mind honed by a classical education (Latin, Greek, Rhetoric and Classic FM, St Fondue's College, Oxford) I find it all terribly…riveting. And the new judges are even better than before! Gary Barlow is knowledgeable and when necessary acerbic. Kelly "owns" cool. I have a big crush on Tulisa, who is not only lovely to look at but clearly a very, very bright young lady. I have been watching her progress for a while. She might be from a tough background but not only is she beautiful, she has panache and a real sense of style: when her band N'Dubz did the Royalty Variety Performance even my mum liked them and thought her dress was lovely. She also has a very sharp wit, and I don't doubt she has a temper. By the way, the other weekend I saw a recording of an N'Dubz gig at Wembley Arena and she "rocked" the place. That is something "Woar Chezza" (Cheryl Cole) could never do. And Louis is, of course, the king of camp with a fixation about pets.
Now no episode of the live auditions would be complete a few dysfunctional, disturbed and delusional nut jobs who think they have talent and deserve to be centre stage. Last week we had the spectacularly detached Michael Lewis who felt "positivity" was the answer and that he belonged right where he was, refusing to leave the stage. And there were the almost equally useless and also very rude "Angels" who got it straight with both barrels from Tulisa and Kelly. Car crash TV at its finest.
Anyway, all these obscure, delusional and talentless nut jobs naturally got me thinking: what would happen if Gordon Brown went on The X Factor? Something like this……?
---
(The scene: an arena in Glasgow. Cheering throngs have come to watch or participate in the auditions. The X Factor theme booms out and chavvy proles cheer. Outside the arena the egregious Dermot O'Leary is interviewing one very special prospective contestant:)
Dermot:(beaming grin) Hi, great to see you here! Who are you, and where are you from?
Brown:(Mutters glumly refusing to make eye contact) I'm Gordon and I'm from Fife
Dermot:(patronising and enthusiastic) That is just fantastic! And I see you've brought some friends with you?
(To Brown's right are Charlie Whelan in a wheelchair with a white wig trying to look like a granny and Ed Balls dressed like one of the Black and White Minstrels. Dermot shoves the microphone in their direction)
Whelan:(in a poor Scottish accent) Och yes, I'm Gordon's wee Scottish granny and I'm supporting our boy Gordon! He's so kind to his granny and all pensioners in fact what with his 10p rise in pensions I just know he's got the X – Factor!
Balls:He sure does, man he's got it in spades (cough) and I'd just like to point out that I am BLACK and BLACK PEOPLE can support Gordon too, he is the all inclusive contestant. Gordon loves black people, gay people, poor people, all people. Everyone can get behind Gordon!
Whelan:And old people, like me! Gordon LOVES old people (mutters aside to Balls). There, got that one in again
Dermot:Fantastic, smashing, super! Good luck in the audition Gordon. You are obviously a great guy and I hope it goes really, really, really well!
Brown:(rictus grin) Thank you. I enjoyed meeting you so much
(Dermot moves away to his next interview)
Brown:What the hell was that? That was awful! Just embarrassing! Why did you two let that bigoted smooth talking twat anywhere near me…
Whelan:(horrified) Gordon! I think…..!
Brown:It's appalling been insulted with awkward questions from a bumptious little c*** who is obviously a bigot and a racist…
Balls:Sorry to interrupt Gordon, but I have to tell you that microphone over there is still on. The world and his wife can hear you…
(Brown buries head in hands and sobs)
.
.
.
(Cut to later on before the judges. Gordon emerges stage right to some applause and some laughter and stands stage centre, looking awkward)
Gary:(dry and flat Mancunian tones) Hi, please tell us who you are and where you are from
Brown:My name is Gordon and I am from Fife, though I have been to Westminster too
Kelly:And what do you do Gordon?
Brown:Well I'm mostly unemployed at the moment, although I do give speeches, so I mostly just do nothing, feeling bitter and betrayed ….
Tulisa:That's really sad. Where's Fife babe, I ain't never 'erd of Fife. Wassit like there?
Brown:Oh, it's crap really. Nobody has anything to do except hang around on street corners, considering macro economic theory and eating deep fried Mars bars
(Sympathetic "ahhh" from the audience and nods from the judges)
Tulisa:Oh babe! That's terrible, innit
Gary:So what's the dream Gordon? What would winning the X Factor mean to you?
Brown:(suddenly animated) It would mean everything to me, I'd be back to the top, where I belong, where I should be, where I need to be….a dream come true!
Louis:And do you have any pets?
(Gary, Kelly and Tulisa groan in unison)
Kelly:Louis, what the f*** is it with you and pets?
Louis:I just want to know if he likes pets! Pets are important. I have a cat and…
Gary:(commanding voice) Shut up about the bloody cat, Louis. Now Gordon, what are you going to sing for us today?
Brown:I am going to sing my own economic rap, Gary. It's one I wrote myself with a little help from my friend Ed, who is also black…
(Sceptical looks and raised eyebrows from the judges. Titters from the audience)
Gary:(looking concerned) OK Gordon, on you go then
(Drum machine starts staccato random beats. Brown begins to gyrate and wiggle in a pseudo sexy way, and whilst leaning to the left and he starts to bark out random phrases)
Brown:Nought per cent growth! Quantitative easing!
It's fabulous stuff, there's nothing more pleasing
Public sector spending man! It's f******* never ending man!
I saved the world and I saved the banks! Don't call me no crank! Man!
Endorphic growth theory!
I can do touchy feely! I really can!
Ain't no deficit, that just Tory bullshit..
(All the while Brown is gyrating and hopping continually to the left with each move. Cut to shot of judges in shock and dismay. Jeers and catcalls from the audience. Cut to shot of girl in the audience looking aghast and putting her hands over her eyes. Brown continues)
Brown:Gotta sell the gold cheap, spend till you weep,
Raid that pension! Anal retention!
Long term economic cycle,
You must be taking the Michael…
(Gary raises his hand and brings the music and the performance to a halt. Laughter ironic cheers and boos from the audience. Gordon looks expectant. Silence. Some titters)
Gary:WHAT THE F*** WAS THAT!!!
Brown:(preening and smug) It's called talent, Gary. Not everyone has it.
Gary:(deep intake of breath) Well, I think I am going to ask Tulisa to kick off on this one…
Tulisa:(frank stare) Well I'm sorry Gordon, I just have to tell you straight like it is. I think all that jiggling and constant moving to the left, it was just to cover up the fact that really you can't do economics….
(Whoops applause and cheers from the audience)
Brown:(snide angry face) Well that's a bit rich coming from you!
(Collective intake and breath from audience, then some serious booing. Venomous look from Gary. Louis and Kelly do "aghast". Tulisa is stony faced and silent)
Gary:Let's just vote….
Kelly:(angry face) Just a minute Gary. Gordon, Tulisa was born in a rough Council estate in Camden. She grew up with a mentally ill mother surrounded by domestic violence and drug abuse and bullying. She started singing in a band age 12 and now just 11 years later she and her band have become the UK's bestselling "urban" act selling millions of albums, playing live at sell out concerts festivals across the world, and even wowing the Royal Variety Performance. She's become exceedingly wealthy, contributed huge amounts of tax to the Treasury in record sales here and abroad. She is not only beautiful but universally acknowledged as a style icon. And she does a lot for charity. She has done all this without a penny of state aid in the same 11 years in which you have achieved f*** all apart from nearly bankrupting the country. In fact you have never had a proper job in your life and taking into account your colossal pension, your net contribution to the economy is a big minus. Now, who has the right to make the call on economics, man..?
(Cheers and applause from the crowd. Gary nods approvingly. Gordon looks furious and gnashes his teeth)
Gary:Let's vote. Gordon, it's a "no" from me
Kelly:No from me! Tulisa, it's a "no" I am guessing….?
Tulisa:(looking rather lovely but dismissive) No
Louis:(excitable) It's not just a "no", it's a "never"!
(Gordon remains on stage, brooding)
Gary:Thanks Gordon…it's over
Brown:Bastards! This is my stage! You are all so negative! I belong here!
(Gordon gnashes teeth some more and starts to foam. The judges look concerned)
Gary:No really, Gordon, it's over. It's a no
Brown:You f******** bastards! Over the longer term cycle I think I would have got a yes. The "no's" don't really exist! There is no deficit of "yes" votes as such…
Tulisa:Actually yes there is….
(Gordon gets out his mobile phone and hurls it at the judges. More boos and catcalls ensue. The judges look outraged)
Brown:I saved the banks! I saved the country! I saved the whole f****** world! It's my stage! I belong here! I am born to be here! Numero f***ing Uno: I can trash you all; I have attack dogs, you know. Bastards, I'll finish you all!
(Boos and catcalls from the audience. The judges look bored. Two large gentlemen emerge from back stage and Brown is courteously but firmly marched off stage. Cut to Brown being interviewed by the still egregious Dermot)
Dermot:Gordon, that didn't go well. What were you thinking?
Brown:Clearly they don't know talent when they see it! Such negativity man!
Dermot:Gordon, you really are a complete – (cut to next act) – girl from Fife called Jade…
Randy Hack
Photo credit Ben Terrett
SBML says: Apologies for the cockup on the earlier version which missed out all the interesting juicy bits



September 13, 2011 at 19:28







September 13, 2011 at 15:52







September 13, 2011 at 15:19




September 13, 2011 at 10:11







September 13, 2011 at 06:28







September 13, 2011 at 00:41




September 12, 2011 at 23:59







September 12, 2011 at 23:26







September 12, 2011 at 21:15




September 12, 2011 at 21:04







September 12, 2011 at 20:50




September 12, 2011 at 20:02




September 12, 2011 at 18:06