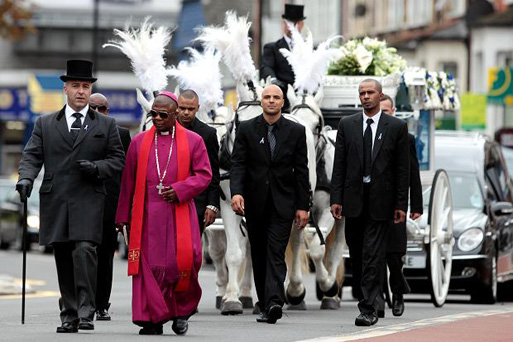 Remember Mark Duggan? The family man whose partner Semone was so devoted to him that she had three of her four children by him:
"Mark was a good dad, He loved his kids dearly. He idolised them."
The uncle of whom his niece said:
"…Uncle Markie. Can't believe I'm writing this. Heaven's new angel. Never forgotten. Love you, Sara."
The impoverished son of a decent loving family:
"If Mark had been a gangster he would have lots of money, which he didn't have," said Mrs Duggan. "He would have been out all the time with lots of others but he wasn't. He was a loving boy with a good heart. He loved his children, he loved everybody.
The family of whom stated:
A private funeral will be held on 9 September before a reception at the Broadwater Farm Community Centre.
The family who even denounced family links to keep this funeral quiet and dignified
Pamela Duggan said: "Desmond's dead and none of his family are coming — we don't see them. It's all lies, saying Mark was under their wing. It makes me angry and there's no way they'll be here. Mark hadn't seen Desmond since he was a baby."
Among the relatives she was referring to is Noonan's brother, Domenyk Lattlay Fottfoy — he changed his surname to the acronym for "Look after them who look after you, f*** off them that f*** off you". He has spent nearly half his 47 years in prison after committing dozens of armed robberies and attacks on prison officers, but now runs a security firm.
So why did they end up with the TV soap operas beloved 'plumed horse and carriage' making its stately way through Tottenham, preceded by a Bishop? The same horse and carriage that turned out to convey Charlie Kray down the Whitechapel Road, the same horse and carriage that delivered Joey Pyle through Merton to his final resting place, oh and Diana Dors too, whilst we are about it. A horrendously expensive celebrity funeral, way beyond the means of any impoverished family on the Broadwater Estate.
A funeral procession that required 10,000 police officers to monitor the expected 3,000 mourners. How many family men on the Broadwater Estate even have 3,000 family and friends?
In whose interests was it to turn this private family funeral into a showbiz extravaganza – and why did the gentle loving family who just wanted a quiet private funeral allow them to?
The answer must lie, surely, with whoever footed the bill. Anybody know?
September 11, 2011 at 03:55










September 11, 2011 at 17:30










September 10, 2011 at 17:21







September 10, 2011 at 15:32







September 10, 2011 at 10:31










September 10, 2011 at 10:06




September 10, 2011 at 09:31




September 10, 2011 at 08:40







September 12, 2011 at 06:40




September 14, 2011 at 15:34




September 10, 2011 at 08:31







September 10, 2011 at 08:27







September 10, 2011 at 08:06