How To Be Sectioned: Part 1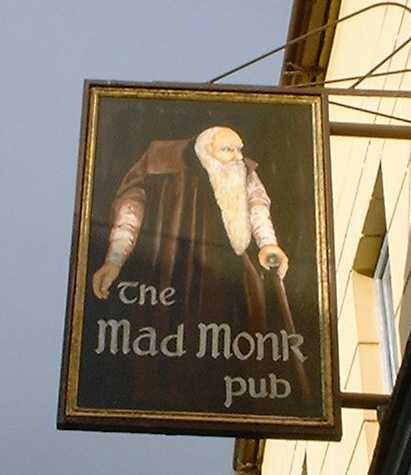 How difficult can it be to get myself sectioned under the Mental Health Act?
Not at all difficult, I suspect.
Probably all I have to do is write about a personal "spiritual" experience as I now propose to do. This may well get me labelled as a religious nut job.
But then I hope Raccoonistas will have broader minds, and perhaps debate the matters which I report upon below, and maybe even enlighten me with their views and opinions.
I have in fact had two extraordinary experiences which I will relate. The first is, I think, clearly capable of a rational scientific experience. The second is much more problematic.
To begin.
It is the end of the 1980's. Your humble monk (then in another life) has taken a break from the day job in the City and has gone on a windsurfing holiday to Vassiliki, on the Greek island of Lefkada. At the time it was just starting to be a Mecca for windsurfers. The reason for this is that Vassiliki is a little village surrounded by mountains that sits at the end of what the end of can best be described as a Greek "fjord".
When the sun rises is gradually warms the steep slope on one side of the "fjord" whilst the other side remains in shade. At first nothing happens. Then around lunchtime the combination of the warm air rising on one side and the cool air on the other suddenly reaches a magic mix and suddenly creates a vortex of strong, steady wind which is ideal for windsurfers.
It was only a cheap package for 10 days, but it was one of those holidays that seemed to last a month and will stay with me for a lifetime. It in the middle of September, which is at the end of the season because the weather starts to change. I went with a girl friend (as in friend who was a girl – I know, it's unusual) who was a reasonably experienced windsurfer, whereas I was a bit of a beginner.
We shared an apartment.
The day had a lovely routine. In the morning we would sleep in till about 10.00 a.m.
Then there was a trip to the local bakery for hot fresh bread, and thence to the surf shack on the beach where the wind surfers congregated for breakfast of bread, butter, and honey.
There was always music at the shack: the soundtrack to the holiday was "Mary's Prayer" by "Danny Wilson".
At about 11.30 there would be an hour or so of tuition in the calm shallow waters for beginners like me, and then lunch at the shack. All the time the sun was cooking one side of the "fjord". And then, sometime about 1.30 or 2.00 pm the windsock on the flag pole by the beach hut would stir and then flip out horizontally as the famous Vassiliki wind flared up.
A frenetic afternoon of windsurfing would then ensue: fantastic and tiring, especially for a beginner like me who did a lot of falling on, but great fun.
At about 5.30 or so I and my purely platonic friend would retire to the flat and have a kip. At about 7.30 we would rise and shower, get dressed up, and head off for dinner. First stop was the fabulous "Zeus Bar", where a cocktail (vodka martini, dry) would be consumed and we each eyed up the respective crumpet. Then dinner in an open air restaurant by the harbour, another bar or two, before a return to the "Zeus Bar".
And so to party and flirt till about two or three a.m., and bed.
And repeat…
Towards the end of this holiday the weather was rather cloudy; as I have mentioned above, it was towards the end of the season, and on this day there was no sun to fuel the wind. So after lunch I went for a run into the surrounding mountains. These were accessible from a track at one end of the beach. I still remember the steep winding gravel track in surprising detail.
I was a "racing snake" in those days, and ran easily for maybe a mile.
But as I climbed higher and further away from the beach I could see and sense that a storm was heading our way. So I turned and retraced my steps back to the beach.
The beach was maybe a mile long with the surf shack in the middle. I reached the beach and started to head for the shack and heard the first crack of lightening and roll of thunder. Suddenly I heard a hissing sound. It was loud and steady:
Ssssssssssssssssssssssssss!
I looked back and I could see that a couple of hundred yards behind there an amazing sight: a gray curtain of rain moving swiftly and inexorably in my direction. Oh dear!
I started to run faster. When I looked ahead I realised something else amazing was happening. All the surfers at the shack had seen me and the sweeping curtain of rain behind, and they were on their feet shouting. Would I beat it and make it back to the shack, or would I be engulfed? Of course it was not life threatening but in the moment it was great stuff.
I started to sprint, determined to beat the chasing storm. The storm hissed and swept on.
At the surf shack, maybe two hundred yards ahead, the surfers were yelling, clapping and cheering: "Faster! Come on! Come on!"
I kicked harder, and then IT happened. Everything went into a sort of slow motion. My body felt lighter than a feather, weightless. Running was effortless. Indeed there was no sense of running along the ground at all. I was floating. It didn't feel good: it felt blissful. I smiled, because I was relaxed enough to smile even though I appeared to be sprinting faster than I ever had done before. It was perfectly clear to me that I could run, or indeed sprint, for a hundred miles if I felt like it. It was genuinely a feeling of being made of light. I covered the last few hundred feet to the surf shack like that. I felt weightless, peaceful and harmonious.
In fact I think the rain did catch me up before I reached the shack, but it hardly mattered. I finally reached the shelter of the awning surrounding the surf shack to more cheers and applause against the background of driving rain and darting lightning. I have never felt more wonderful in my life. I grabbed a beer.
This euphoria gradually faded. There then followed a further interesting culture event.
The rather flashy Germans (big camper vans, all the kit) were gloomy and dismayed by the storm which had interrupted the serious business of holidaying. The Brits played crazy music, danced in the driving rain, sang and drank the surf shack dry. The Germans were utterly baffled by this behaviour.
What was this phenomenon? Not the drinking and the storm, but the moments of elation or euphoria? It was a remarkable mental and physical moment. It was clearly "a state of bliss" such as most religions refer to in some way, but I do not think a "religious" or "spiritual" is the only or indeed best explanation, although it not to be completely discounted – it depends what you mean.
I am aware that many athletes in their career have at moments of stress or elation reached a similar "zone", which is often referred to as the "peak moment".
Indeed I remember long ago hearing an interview with the former World Formula One motor racing champion Jackie Stewart in which he describes veering off the track in a spin, and suddenly, once again, everything went into slow motion: he could smell the grass, feel every aspect of the car and so forth. I can understand exactly what he means.
I was not ultra fit, but what I think happened was the result of a combination of rest, healthy exercise, fun, excitement, a small element of stress, and being close to nature.
Somehow these fused together to create in the moment an explosion of endorphins (or whatever) in the brain. Thus a purely rational explanation. But that does not mean that the experience was not "spiritual" in the sense of being profoundly wonderful and moving.
It has never happened again.
As to the second event, that is much more problematical….
(Photo Credit: Mad Monk)