Drunk as a Monk in a Cider Store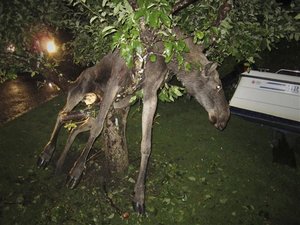 From NPR via Liberal Conspiracy's sidebar:
A seemingly intoxicated moose has been discovered entangled in an apple tree by a stunned Swede.
Per Johansson says he heard a roar from his vacationing neighbor's garden in southwestern Sweden late Tuesday and went to have a look. There, he found a female moose kicking about in the tree. The animal was likely drunk from eating fermented apples.






September 10, 2011 at 10:01










September 10, 2011 at 12:25







September 9, 2011 at 12:33







September 9, 2011 at 09:43










September 9, 2011 at 12:24







September 9, 2011 at 14:05







September 9, 2011 at 08:10




September 8, 2011 at 23:12




September 8, 2011 at 22:09







September 8, 2011 at 21:51










September 8, 2011 at 22:30




September 8, 2011 at 21:49