The Curmudgeon on Cameroid.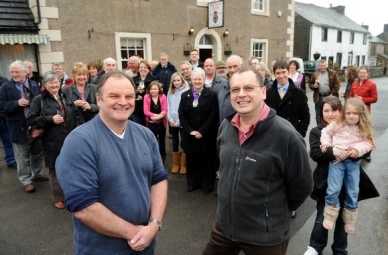 Reading of the latest Cameroid 'big society' project, accompanied by Prime Ministerial scoffing of ale and jubilation from the outraged 'moral majority', I am minded of an incident several years ago now, when a friend of mine was threatened with the loss of his home over an £18,000 debt.
He committed suicide, alone, in the forest one morning, unable to face telling his wife and family they must live elsewhere. He was much loved in the village, a local lad who had done well. Over 1,000 people crowded into his funeral to show his widow how much they cared.
I'm a curmudgeonly old soul and couldn't help reflecting that for a mere £18 a piece we could have averted the disaster rather than gathered to display our grief whilst we nibbled the crisps provided to reward our attendance and toasted his memory. A logical mind doesn't always go down well.
Community action of itself is not necessarily a 'good' – it needs to be community action when it is truly required.
Some time later a pub in the neighbouring village shut its doors for the last time. Now home to a commuter residential base, bereft of the hard drinking agricultural yokels that it once served, they simply couldn't afford to keep the doors open.
At once the 'moral majority' that was the backbone of these London metro types, rose up and denounced the landlord. He was depriving the village of its 'community centre' – where would they take their gin and tonic, (just the one), before Sunday lunch? He must be punished by opposition to his planning application to turn the pub into a home.
Day and night they laboured. Media types were press ganged into producing press releases. The more vocal and photogenic were scooped up by local radio and television where they waxed lyrical regarding the ancient history of this hostelry. A senior legal chappie gave of his £400 an hour time freely to work out the correct legal tripwire to ensnare the dastardly landlord and thwart his plans.
They succeeded. The planning application failed. They still didn't get their Sunday Gin and Tonic though – the landlord still couldn't afford to open the doors for just a few Hooray Henry's Sunday delight. No dignified retirement from a no longer viable business for him. You can take a horse to water, but you can't force it to let you drink.
If only they'd put all that effort into actually supporting the pub whilst it was still open. As the landlord sadly commented to his local paper – 80% of the 'committee' had never set foot in the pub.
And so to the Butcher's Arms in Crosby Ravensworth.
It has taken me half an hour of dedicated Googling to discover that the landlord and his wife were once a Sue and Colin Wilson. One of them fell ill. I know not which partner. The other could not manage alone or perhaps was required as full time carer. The details are not available, for they seem to have been forgotten in the general jubilation of the re-opening of the Butcher's Arms. Sue and Colin Wilson don't even get a mention after the pub closed in 2009.
No committee of concerned villagers to support them. No one offering to put a fresh coat of paint over the walls. No famous chefs rushing to man the ovens and conjure delicacies. No fund to help them over their hard patch.
But lo! What is this on the horizon? A Cameroid 'Big Society' project looms in the distance.
A chef has been lured back from continental eateries with an ambitious 'business plan'. Residents contributed a stonking £1,800 a piece to finance the replacement of the worn out décor, the primitive kitchen, the virtually kaput electrics and plumbing, the shabby exterior, and the 'air of defeat'.
Daphne Baird, 61, who runs the Cosy Cats cattery, painted the front door and windows, and ran up the covers for the bar stools. "I told my sister, Heather, about what we were doing, and she ended up making the curtains. It was all worth it. You wouldn't want to live with my partner if there was no pub where he could go for a pint. When the outside was done, it still looked a bit bare, so I bought some flowers and filled up the baskets."
Housewife Jan Garnett, 52, sanded down the old beams and carted sacks of rubble from the gutted interior. "We'd be in here five hours some days," she says. John Mullen, 60, a retired electrician, paved the floors and laid carpets. "I don't drink, and my wife can't, so we're not really pub people," he said. "But we wanted to be involved. It was a fantastic experience." His wife, Yvonne, a former schoolteacher, lugged bags of cement and cleaned up as the volunteer workforce installed a new bar, kitchen and dining area.
The financial wiz kids behind this community scheme were hoping for a grant of up to £100,000 from the Community-Owned Pubs Support Programme. It's been scrapped, so the new 'community owners' must now behave like real landlords and figure out how to raise the money from ordinary drinkers…..
All that effort, its commendable – but if it had been applied when the owners were struggling landlords, if interest free loans had been raised, if villagers had given up their time to drink there, paint the walls, fill the vases with flowers, would the television cameras have rolled into Crosby Ravensworth to film the Cameroid contentedly raising his glass to toast 'community spirit'?
OK, I'll accept that I'm a curmudgeonly old soul.



September 6, 2011 at 22:25




September 6, 2011 at 20:29




September 6, 2011 at 14:45










September 6, 2011 at 17:14




September 6, 2011 at 13:24










September 8, 2011 at 14:41