Making a Drachma Out of a Crisis.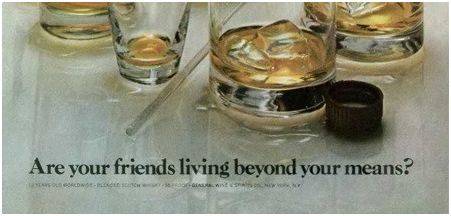 I idly wondered, in the early hours of this morning, where had the original advertising slogan come from? Susie Henry, who founded the Waldron, Allen, Henry & Thompson advertising agency for Legal and General, if you are interested.
You might be playing Trivial Pursuits one day.
Whilst I was trolling about in these waters, I came across another little known slogan that obviously didn't catch on as well. Chivas Regal Scotch – 'Are your friends living beyond your means?' Our 'friends' in Europe certainly are.
Back in 2009, when our 'they bubble, we squeak' friends first put out their begging bowl, on account of how the world fiscal crisis had unaccountable left them a little short of the means to retire to the beach at 50, the EU took a hard look at their finances. Not unreasonably so.
They concluded that actually, it wasn't just the 'it started in America' banking crisis that had left them short of spondoolies, they had been so for years, we had just never noticed.
The reason we had never noticed was that they, how can I put this – had some unusual accounting practices, or as the EU put it, they had submitted 'incorrect data' based on 'non-respect of accounting rules' in 'improperly documented book-keeping' – what would be termed 'lied through their back teeth in order to get the loan' had it been any ordinary mortal that we were talking about.
That small detail didn't seem to make the evening news as effectively as the fires they started in the main square and the riots all over town. You can be forgiven for having overlooked it. Call it 'Dale Farm' syndrome – make enough noise and everyone will forget the important principle that got you in the mess in the first place.
The EU hadn't forgotten though, and as the price of delivering a wagon load of our money they used one of the treaty articles (121 (4) of TFEU if you're that interested) to force the Greeks to use an independent accounting service and 'regular' methods of recording who had taken which money for which purpose…Note the word Independent; some one who can't get fired for saying things the recipients of the money don't like…..
The new accounting service, the Ruritanian 'State Budget Execution Monitoring Office' put out its first report a few weeks ago. It said that despite two bailouts, Greeks still weren't 'getting it' and that the 'dynamics of the public debt, boosted by a significant debt increase, a high primary deficit and a deepening recession, were now ……out of control.'
Whoosh! Independent accounting services aren't supposed to say things like that! By Thursday, the Finance Minister had come roaring out of his office to announce that '"It is clear that the budget office still lacks […] knowledge, experience and sense of responsibility," Or put it another way – 'hasn't learnt to say what I tell it…….'
The Greek government are now going to place some of their apparatchiks into the Independent accounting service to, er, see things their way, and gain the 'knowledge, experience and sense of responsibility' that is required to get us to go on financing their lifestyle – they'll have to, the independent auditors have resigned.
Greece was not the only country to have had new accounting methods imposed on their, er, somewhat peasant ways. Italy too. Italy, like Greece, was supposed to up its pension age, to make a little more room on the beaches for us. They too, have decided that this is an austerity measure too far – the only people likely to be upping their pension ages will be the ever complaint British, who will have to go on working to pay for all this madness.
Yet our media are only concerned with manufacturing stories about eggs being sold by weight or Euro-stop-start refusing sterling currency, simple knee jerk one liners. It's pathetic. There are far bigger stories out there, major issues of mendacious, scrofulous politicians all over Europe, lying, cheating, and thieving in order to maintain their current position.
Talking of mendacious, scrofulous politicians. A little gem in the Telegraph over the wee-end, and a puzzle for you….
'Deng-dang, the witch ain't dead', aka Wendy Deng, Rupert Murdoch's wife, has slipped another right hook past the referees determined that her husband should be knocked out cold without so much as putting on his boxing gloves. She hasn't so much waded in, but slipped quietly through a back door of the 'Murdoch is dead, Cameron was far too close to him' celebratory party, and quietly let off a stink bomb in the corner.
It seems that Murdoch is a man of such poor judgement that he considered Tony Blair to be the best person in the whole wide world to be in charge of his child's moral compass. Caligula in charge of the premature baby unit. Gulp. He appointed him God Father to his youngest child. There's a kid to watch closely.
What fascinates me is that Blair was Prime Minister at the time and the Christening service was in Jerusalem. It is inconceivable that Blair could have travelled to Jerusalem and anything less than 100 people from security to secretaries being involved and have knowledge of the trip and purpose.
Not one of them leaked this information, not even within the office? Ed Milibland was out on his soapbox, decrying the closeness of Cameron to Murdoch – 'he went riding with one of Murdoch's executives' – and no one, but no one ever said, 'hang on, Blair was even closer'.
Or maybe they did.
Maybe the whole Murdoch exercise was not so much get Rupert as get Blair and the Blairites? What think you?