How Much is that Golly in the Window?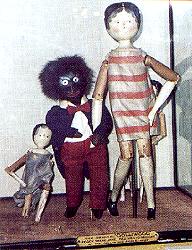 I give in. No longer will I try to make sense of this world. The entire country is nuts.
Two neighbours live in £1 million pound properties separated by a spacious courtyard – and I do mean spacious. Dozens of cows used to mill around in this courtyard. One might speculate whether some still do. The two properties are renovated farm buildings and a Manor House. We're not talking downtown Tottenham here.
One neighbour has visiting children who place a series of toys on a windowsill out of the resident dog's reach, including a Gollywog.
Shock horror, someone still owns a Gollywog.
Prepare yourself children.
Yessiree, for the other neighbour is said to be 'of Jamaican descent.' Not 'Jamaican' , but of 'Jamaican descent' whatsoever that means.
You're ahead of me, aren't you? Well done!
Yes, the Gollywog owner is now to appear in court charged with racially aggravated harassment under Section 28 of the 1998 Crime and Disorder Act….
For allowing to be displayed a toy, the sight of which, her neighbour claims, left her 'shocked and upset'.
The maximum penalty that magistrates can give for the offence is six months in prison or a £5,000 fine, but if the case goes to Crown Court the maximum sentence is two years in jail.
Proving that people who live in vast houses….
Up to you, I'm speechless.
* Historical footnote – Florence Upton's original gollywog (pictured) is STILL on display in Chequers the Prime Minister Country House.
September 14, 2011 at 19:21







September 8, 2011 at 09:47




September 8, 2011 at 05:44










September 8, 2011 at 14:11










September 8, 2011 at 15:00










September 8, 2011 at 17:23







September 8, 2011 at
19:36


September 7, 2011 at 19:02










September 7, 2011 at 18:10










September 7, 2011 at 14:06










September 7, 2011 at 09:06










September 7, 2011 at 08:04




September 7, 2011 at 00:47







September 6, 2011 at 22:11







September 6, 2011 at 22:01










September 6, 2011 at 22:43




September 6, 2011 at 21:51







September 7, 2011 at 11:12







September 6, 2011 at 21:36







September 6, 2011 at 20:49









September 6, 2011 at 20:21







September 6, 2011 at 20:16