Is It 'Cos I's Victimised?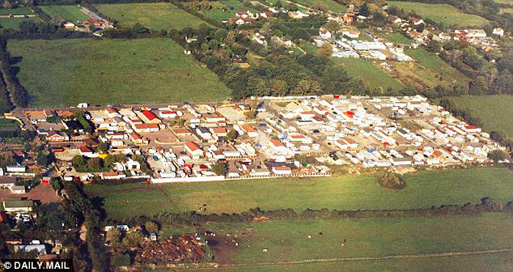 'Old man Dale had a Farm', back in the days when farms were something you kept animals on and scraped a living from. He milked cows and herded sheep and did all manner of such things.
Times changed, the cosseted Guardianistas that still ate meat didn't want to think of the times when meat walked to market on its own; they wanted clean, clinical, cling film wrapped slices of something the right shade of pink in two-for-one offers. Preferably with a microwavable sauce. Thailand did it cheaper.
Old man Dale abandoned his farm; it appears to have been leased from the council. The surrounding area of poor quality small tracts of land had always attracted the dispossessed, the underbelly of the agricultural community. The council weren't too upset when a few English gypsies appeared and forced the council to abide by its legislated duty and provide a temporary resting place for their caravans.
Dale Farm cottage was leased* to one of the underbelly of the industrialised community, a scrap metal dealer by the name of Ray Bocking. Nobody really cared what went on down the deeply rutted track that led to Dale Farm. Some of the local councillors even sent their teenage children down there to buy back parts for their Vauxhall Crestas and Ford Anglias that had mysteriously gone missing. It was a reasonably amicable arrangement.
The land lay either side of Oak Lane. Half had permission for a temporary resting place for 'Traveller's' as Gypsies were now to be known. Half had permission for Dale Cottage – now occupied by Mr Bocking – and surrounding Green belt 'farmland'.
Somehow, the scrap dealer Mr Bocking maintained amicable relations with his neighbours; he doesn't appear to have suffered from that well known malaise of getting any inch of scrap iron lying around nicked, at any rate. In fact his business prospered. He had no planning permission for it though.
Enter the 'Saunders' family in the 1980s. Bluey Saunders might have termed himself a traveller, but travelling was the last thing on his mind. He wanted a permanent resting place, and after many years of legal tussle with Basildon council, He won planning permission for the 20 temporary resting places to be re-designated permanent sites.
The might of the British housing market had entered the game!
Traveller's caravans ceased to look as though they intended 'travelling' anywhere at all – they acquired outside lighting, garden fences, brick skirts around their base, garden gnomes even. This new land of 'travellers' that had no intention of travelling proved popular. Another 17 plots were applied for and granted.
By 2001, 'getting a foot on the permanent housing ladder' in Dale Farm was proving so popular with the previously nomadic community that families came to blows – or rather shots.
Paul Saunders was ultimately cleared of the murder of Billy Williams.
Now there were 37 legal permanent sites on which to display your garden gnomes, they had a value in Britain's burgeoning housing market – and soon the Sheridan family, amongst others, arrived from Ireland, bearing copious pound notes; slightly rumpled, a little dirty, but legal tender.
The plots were changing hands at £50,000 a piece. No mortgage available.
More Sheridans arrived from Ireland, along with intermarried Flynns and McInerneys.
The English gypsies rediscovered the joys of travelling and left the site, clutching their wads of notes, to the Irish property developers, sorry, itinerant travellers.
All that green land just across the lane was a temptation when a small portion of it was worth £50,000 a throw. John Sheridan paid the erstwhile scrap dealer Mr Bocking £120,000 for his cottage and the green fields around it. Mr Sheridan and the rest of his family divided up the land and passed on small parcels of it for (???) to members of his clan. They complained about having to clear the land of rubbish and scrap metal before they could gentrify it and surround it with brick walls. (They can do irony).
The Taxpayer chucks in a helpful £250,000 a year in benefits to the site, and curiously, many were further benefitting from £7,650 a year in rent by way of housing benefit paid from one family to another. Some had left perfectly legal 'permanent sites' in order to join the great Dale Farm bonanza.
Soon, there were 52 of the '£50,000 a throw plots' on the green land. Mr Sheridan senior built himself a luxury bungalow as he surveyed his 'travelling lifestyle' with pride.
Now the might of British multi-culturalism entered the game.
Channel Five came along with their cameras and supportive agendas. The Travellers learned fast. They sold the rights of a local wedding, not to Hello magazine in time honoured fashion, but to Channel 4 – and 'My Big Fat Gypsy Wedding' appeared on screen.
They installed a chapel. Any suggestion that they might have to comply with the planning laws was met with a chorus of 'you're destroying our cultural religion'. The chapel was at least used for the Big Fat Gypsy Wedding – and meetings with sympathetic members of the left wing luvvies.
'How dreadful! This colourful community are being victimised'.
Community? Quick, build a community centre! The wails turned to 'and they will lose their essential community centre'.
The Redgrave family – and no doubt outposts of the Longford clan, the Harman harridans, and various left leaning Chambers beat a path to their door. Following which, one of the Sheridans was visited by a bolt of insight into the legal process. Did they, or did they not have a 72 year old female resident, one of the Flynn family, who used a nebuliser to help her sleep at night? Indeed they did.
She was selected to represent the 'people dying of cancer and on dialysis' that were apparently on the site and too shy to come forward. Her 'right to private and family life at home under Article 8 of the European convention on human rights' was to be pressed at the High Court. A hugely pregnant member of the tribe was pushed in front of the cameras to announce that she was due to drop a sprog at any moment.
Oh cruel world!
Vanessa Redgrave was in the High Court to wail that 'greenbelt considerations' were being 'put above human rights'. Brendan O' Neill, past Editor of 'Living Marxism' has used his undoubted literary ability to pen oeuvres in the Guardian saying 'what crime have the Dale Farm gypsies (very off-message Brendan, these are non-travelling travellers!) committed apart from getting up the nose of posh people'.
'Posh people' like the unfortunate builder Len Gridley, last seen being carted away from his lowly property by the local police for the crime of having tried to set light to a wooden barricade erected on his land by the determined 'travellers'.
Banners were hastily erected saying this was 'Ethnic Cleansing'…
'Anarchists' assembled at nearby 'Camp Constant' – not too many, their first act was to set up a SMS texting service so you can carry on creating havoc in London until the last minute and then hot foot it down to Dale Farm to join in the mayhem when summoned. They've been turning up from Sweden, Holland and Italy.
They don't explain how they define 'Anarchist'; it appears to be someone who believes in laws like Article 8 of the Human Rights Act, but reserves the right to beat up the long suffering local Plod when the Town and Country Planning Act is invoked….maybe it's just someone who likes a good bun fight.
On Saturday, that section of the Jewish community which knows a thing or two about setting up illegal homesteads will be on hand showing solidarity, Rabbis included, manning the barricades. No word yet on an Imam or two to keep the diversity co-ordinators happy.
"It's important that cultures with a shared history of oppression support each other when our fundamental human rights face being breached."
Yesterday, Mr Justice Kenneth Parker received an assurance that the council would re-house (I don't want a house, I want a caravan that looks like a house and doesn't go anywhere) the nebulised 72 year old Mrs Flynn, and then ruled that 8 years was not a hasty planning decision:
"It is in the public interest that there should be finality to litigation," he said. "I find no exceptional circumstances in this case that would justify the reopening of a judgment given by the court of appeal relatively recently, having specifically considered the challenge made under Article 8 of the convention."
All that remains now is for the Taxpayer to stump up the estimated £12 million quid in overtime for the Police to go on riot duty as the 'Anarchists' and other hangers on do battle alongside the Irish property developers, to hang onto their £50,000 plots….oh, and the State Benefits of course.
Sky will love this. Wall to wall colour, religious leaders, famous actresses, screaming women in labour…..I spit on your Tripoli, and your Tottenham, and raise you the next week's wall to wall coverage.
Unless the council just has the good sense to say nothing for another six months until they all get bored waiting, that is…..they wouldn't, would they?
Edited to add: My information was that it was a leased farm once. (normal practice in poor agricultural areas). Whether it has remained that way or subsequently been sold by the council I honestly do not know.
Whether Mr Bocking started leasing it and then subsequently bought it, I do not know.
I shall endeavour to find out in the light of the ongoing conversation on Twitter. Either way, it only had agricultural land permission.



September 2, 2011 at 08:10




September 1, 2011 at 22:05




September 1, 2011 at 19:55












September 1, 2011 at 12:33










September 1, 2011 at 12:48










September 1, 2011 at 13:06







September 1, 2011 at 12:05









September 1, 2011 at 10:14









September 1, 2011 at 09:40










September 1, 2011 at 10:57







September 1, 2011 at 16:17







September 1, 2011 at 09:16