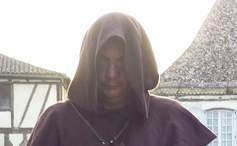 France has passed a Law about the habit of wearing Burkas (there's a good background discussion here at Open Democracy), but not apparently about berks wearing habits.
This is alleged to be Gildas the Monk as he was dressed on arrival at the airport before travelling to Chez Raccoon.
Here's the photo in all its glory, complete with sandales sans chaussettes.
In the best Jesuitical Tradition, there's also a subliminal test in this picture.
What was your reaction in the first half-second?
Mine was Who's that blonde, rather than Look, there's Gildas, so I failed.