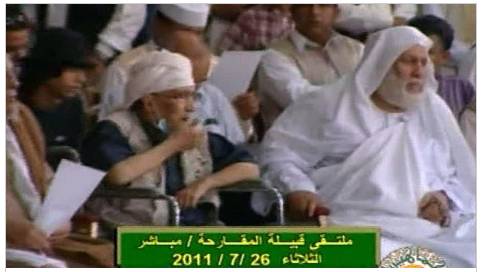 A growing chorus of people is calling for Abdel al-Megrahi, to be placed in gaol again.
Any regular of Private Eye would know that his original conviction was based on incredibly weak forensic evidence and very dubious witness statements. There is considerable evidence of dark and dirty backroom dealing by various secret services to get someone banged up and the whole thing swept under the carpet. This is disgraceful, because it means that the people who are left behind have not, despite all appearances to the contrary, received justice.
His release on medical grounds was thoroughly vetted and was completely lawful.
Apparently, he has broken the terms of his bail conditions because his parole officer has been unable to reach him on the phone, hardly surprising given what is happening in Tripoli at the moment.
And yet now people are calling for him to be put in gaol again. You can tell by the way that it's being reported that this is just cheap political point-scoring against the SNP, or possibly to shore up the votes of "right-thinking" Daily Mail readers.
But the most surprising person to join the chorus is Nick Clegg. As either a Liberal or a Social Democrat, there should be no call for him to require a person who has done his time, been lawfully released on compassionate grounds and has not committed any subsequent crime, to be put in gaol again.
It once again underscores the complete lack of principle in modern British politicians, who will say anything, literally anything, if they think it will gain them more votes than it loses them. There are no principles, no beliefs, no rules in the world of modern politics. It is all about expediency, soundbites and bandwagons.
It is also profoundly depressing.
August 27, 2011 at 14:29




August 26, 2011 at 21:39







August 26, 2011 at 18:56







August 26, 2011 at 18:49










August 27, 2011 at 00:15




August 26, 2011 at 14:31




August 26, 2011 at 13:42










August 26, 2011 at 12:40










August 26, 2011 at 13:02







August 26, 2011 at 12:31




August 26, 2011 at 12:18







August 26, 2011 at 11:18










August 26, 2011 at 14:18







August 26, 2011 at 10:51