His Judgment Cometh And That Right Soon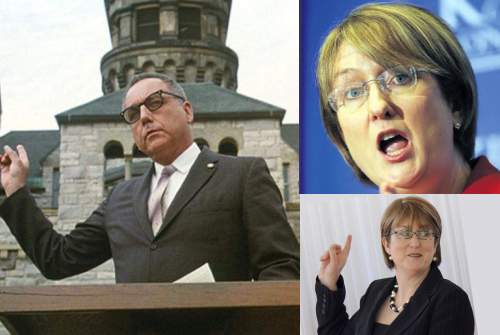 Is it me, or is there more than a passing physical similarity between former MP and Home Secretary Jacqui Smith and the famously evil Warden Norton in "The Shawshank Redemption", brilliantly played by actor Bob Gunton.
I cannot believe that anyone exists who has not actually watched "The Shawshank Redemption" (which is allegedly the world's most popular film).
But for those who have not let me just say that Norton is the hypocritical, sinister bible–bashing Warden of the Shawshank Penitentiary (video link).
Under his brutal watch, and using the administrative skills of the imprisoned hero Andy Defresne (Tim Robbins) the prisoners are used as his private labour force capable of undercutting all others and which funnel (if I remember right) "a river of corruption" and dirty money through the prison.
None of which, of course, has anything to do with Smith, who faced controversy over her £116,000 expenses claims in general, and over claiming for her husband's use of porn movies in particular. However, I see that Smith is in the news again for having prisoners from the local nick turn up and paint her house.
I find this slightly problematical.
If I want the Abbey painted, I get down to my local B&Q and buy some white wash and a roller, or open the Yellow Pages and look under "Painters and Decorators".
A transaction then ensues, under which I pay someone for their work. I was not aware that there was a local workforce available in return for a undisclosed payment to a local charity.
It seems that the new system has endless possibilities.
Next time I lock myself out, for example, I will not pay a local locksmith an inordinate amount to change the locks. I will pop down to the local Nick and borrow a burglar, who will show me how to get in. In return I shall make a donation to the local RSPCA.
Of course, those familiar with "The Shawshank Redemption" will recall the tapestry which adorned the wall in Warden Norton's office: it reads "His judgment cometh, and that right soon".
They will also recall the ultimate ironic meaning of those works, fate which awaits him.
One can but hope….
Gildas the Monk