Goalkeepers – a Blunderful Life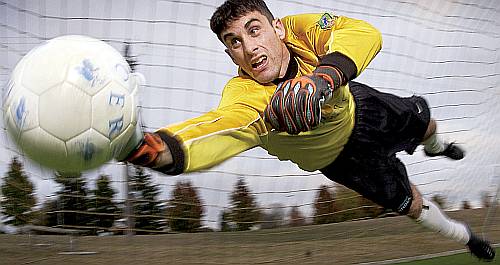 The goalkeeper is probably the most under-valued player in professional football, perhaps because the signing of a new wide player or centre forward is always more likely to attract the excitement of supporters in the summer, selling season tickets as a result. Many are not especially fond of the man or his club, but Sir Alex Ferguson has demonstrated a knack over two decades of knowing exactly which areas of his Manchester United team require strengthening and acting accordingly. Of course, he is now at the stage where 'keeping the supporters onside' is simply not an issue, such is his god-like status at Old Trafford. However, one gets the feeling that even if this were not the case, he would utilise the funds he had in the best way that he saw fit and ignore calls to sign this or that player.
Brian Clough, who for this bunny is the greatest ever British football manager, understood the value of the goalkeeper better than anyone when he paid a national record £250,000 for Peter Shilton in 1977. When people are asked "who's your team's best player?", it is extremely rare for anyone to answer with the name of the last line of defence. However, it is the case far more frequently than is widely acknowledged, and certainly so when considering Clough's Nottingham Forest side that twice conquered Europe after winning the Division One title in 1978. Eighteen goals conceded in 37 matches tells all that one needs to know about the levels to which Shilton performed that season. His manager knew that when he shelled out what may have appeared at first to be an outlay that was over the odds, he was acquiring what he knew would be undeniably the most valuable asset in his squad.
Ferguson is very much of the same mould, and knew that replacing Edwin Van Der Sar after the Dutchman's retirement was both a necessary and far from simple task. £18 million remains a huge outlay for a goalkeeper, and when the man concerned is only 20 years of age, then the investment in David De Gea is in the potential and likely longevity of the player more than what they might produce in the here and now. However, it is also a fee that produces a level of pressure on both sides – on the club to immediately field the new signing in the first team, and the player concerned to deliver some level of performance with immediate effect. Two nervous and error-strewn displays later, some are perhaps asking exactly who it is that Ferguson has replaced:- Van Der Sar or Massimo Taibi?
It's almost impossible to speak too highly of Van Der Sar, a superb keeper in every technical department, a man who commanded his penalty area which calm authority and moreover a totally thorough and dedicated professional. Perhaps his greatest achievement came in the fact that when he left, people were asking how United would replace Edwin Van Der Sar, and that the ex-Juventus, Ajax and Fulham stopper had broken the curse of club legend Peter Schmeichel over a succession of Old Trafford glovemen. Even in the autumn of his career, the reflexes and shot-stopping that had been a huge part of his game remained as solid as ever, with costly errors restricted to maybe one a season. Anyone who appreciates good goalkeeping should enjoy this video regardless of whether they are a United enthusiast or not (and this bunny certainly isn't).
One of those who undeniably suffered from the post-Schmeichel jinx was Taibi, and that he has become something of a joke figure amongst fans of United and their rivals is most unfortunate. Having followed Serie A during the Channel 4 years, this bunny would agree with the fundamental analysis of the legend that is James Richardson. When discussing that howler against Southampton at Old Trafford during the 1999/2000 season (see the DVD 'It Shouldn't Happen to a Footballer'), the expert on all things calcio made a point of emphasising, "he's a good goalkeeper – he did well before United and well afterwards". Indeed so – despite being a big success with a string of provincial Italian sides, Taibi's two career failures undeniably came with AC Milan and United, easily the biggest names on his CV.
Sometimes the issue is not ability or application, but the realisation that a stage might be simply too pressurised for the player concerned. As a big fish in the relatively small ponds of Piacenza, Venezia, Atalanta, Reggina and Torino, Taibi was brilliant, at both ends of the field on occasion. I looked for a 'greatest saves' collection, but was repeatedly pushed in the direction of Le Tiss and his rather feeble daisy-cutter. However, here's a clip of that most rare and therefore enjoyable of moments – a goalscoring goalkeeper. Trailing 0-1 at the end of a match against Udinese, Reggina's well-taken equaliser comes from an unlikely source – nicely done Massimo.
So is the stage too big for De Gea? The honest answer would be that it's far too early to tell, although an average cost of a goal per game through personal errors is something that no team aspiring to win major honours can sustain for too long. Anders Lindegaard has waited patiently for his opportunity, and will surely merit a run in the first team if there are many more soft concessions like the Edin Dzeko shot that went through De Gea in the Community shield and Shane Long's bobbler for West Brom on Sunday. They say that you have to be mad to be a goalkeeper, and part of the reasoning for this almost certainly lies in the standards by which glovemen are judged. In short, they are harsher and more exacting than those applied to anyone else on the pitch.
Their existence is much like that of the wicketkeeper in cricket. Much of the goalkeeper's work is routine and expected of them – indeed, making things look simple and avoiding the 'camera save' is what often separates the solid and reliable gloveman from the flashy and unpredictable one. Telling the difference between keepers capable of operating at different levels is not always easy as a result, since most exude competence in the vast majority of what they do. However, it is the instances of uncertainty and occasional blunders that are focussed on, more than anything because of the immediate consequences of such moments. Assessed against the same criteria as a goalkeeper, would someone like Andy Cole, known as he was for needing five pops at goal to register a solitary strike, have had the prolonged and successful career with United that he did?
An alternative way of looking at the equation is:- what's the difference between missing when it's easier to score from six yards out and dropping a cross at the feet of an opposing forward? In truth, the cost of both disaster moments is a goal that could shift the momentum of a match. Yet forward players in particular are afforded a great deal more latitude and room for error than the men they might face in a one-on-one situation during that same 90 minutes. They also command greater transfer fees, salaries, name recognition and perceived value amongst supporters with regard to their overall worth to the team. As a believer in market forces, it's not for this bunny to complain or call for some higher authority to intervene in setting transfers or wages, but it appears sometimes that conventional wisdom does not give the last line of defence, who in reality is a massively important part of any successful side, a fair shake.
Two games is nothing, and this bunny hopes more than anything that in the cut-throat world that top level football has become, De Gea gets every opportunity to shake off his less than convincing start and show English supporters the talent that was deemed to be worth such a significant outlay in the first place. It was, of course more than poor Massimo Taibi got, and there is a very strong case from football history for showing faith in a goalkeeper whose natural ability perhaps gives way to nerves or stage-fright in their early performances. Check out this Bruce Grobelaar nightmare at Anfield during his first season in goal for Liverpool, then a reminder of the very good performer he became but a few years later.
Form is temporary, class is permanent and we'd do well to remember that sometimes.