Total Politics Blog Awards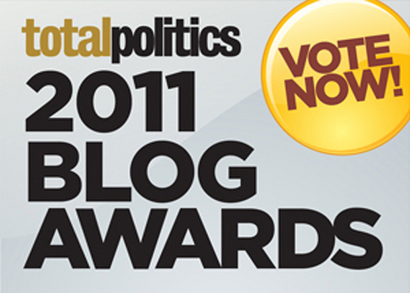 This is the last day of voting for the Total Politics Blog Awards. If you intend to vote, for Anna Raccoon or other sites, you have until midnight.
At this time of year Total Politics Magazine are running the Total Politics Blog Awards blog awards, where you can vote for Anna Raccoon, and some of our individual bloggers.
It is useful to the blogs and bloggers because the list is a reference source for anyone outside blogland, and everyone is lazy and likes Total Politics to write their lists for them.
At annaraccoon.com, we are not aligned to a single political party, and we don't have legions of voters who vote for us as a matter of course. The party here is an army of regulars in the Raccoon Arms (hic !), who may or may not remember to vote.
So this is a prod – please support the site, preferably in the non-aligned, libertarian, and media categories. You also get to vote for up to 9 others. You *must* vote for at least five sites.
You also have to vote for individual bloggers, and I'd encourage support for our regulars, who all work hard, but I'm not allowed to promote anyone by name.
Here are the rules in full.
Voting opens at 9am on Monday 8 August and closes at midnight on Friday 19 August. Any votes submitted after that will not be counted.
The rules are simple.
Your votes must be ranked from 1 to 10. The higher you rank a blog or author, the higher up they will appear in the aggregated results. You must enter a minimum of five names for your vote to count. If you don't want to enter more than five, just write 'blank' in the remaining boxes. Every box must have some text in for the vote to be submitted successfully.
Only submit your vote once. If you vote more than once, it won't be counted.
Only blogs based in the UK, run by UK residents or based on UK politics are eligible.
Anonymous votes left in the comments on the Total Politics website or emailed to members of staff will not count. You must submit your vote via the survey and you must enter a valid email address when you do so.
Do not publish a list of ten blogs on your site and try to persuade readers to vote for them. Any duplicate voting of this nature will be disallowed.
Any queries, contact mailto:caroline.crampton@totalpolitics.com?subject=Total%20Politics%20blog%20awards%202011
Happy voting.