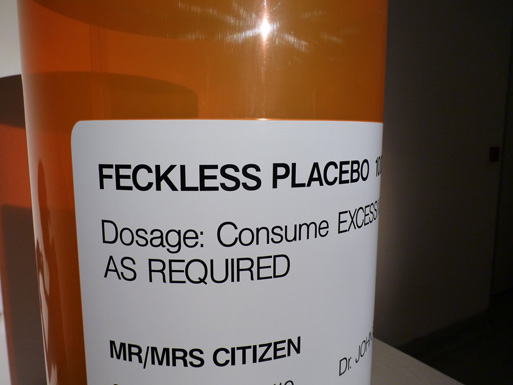 You might imagine, listening to the morning news, that the 'Feckless' were a new phenomena. Some development of modern society that requires the combined thinking power of a dozen politico think tanks and a conference hall of social workers and community leaders.
We have always had the 'Feckless' – it is a 16th century word for God's sake; originating in Scotland. Glasgow perhaps? Nor does it stem from the Irish 'Feck Off' as you might imagine, but was a word designed to encompass futile, hopeless, ineffective, ineffectual, feeble, meaningless, and useless.
Apart from a handful of aboriginal tribes that manage to escape the notion – every society has a 'top' – and if you have a top, you have a bottom too.
What is new is the idea that you can somehow do away with the bottom layer of society; that you can build enough youth centres, increase benefits, find work, and somehow you will magically do away with the bottom layer of society.
Nonsense on stilts.
The only difference between the terrifying 17th century world of footpads, miscreants, montebanks, pickpockets, beggars and vagabonds is that we finally overcame our reluctance to follow the French fashion for a uniformed presence to deter them from preying on the hard working and decent – and we saved them from starvation along with a modicum of morality. The work houses, the clergy relief for the poor, the almshouses –and the 'institutions' for those so feeble minded that they could not comprehend the ill they did.
Not only have the Fabians convinced us that we can live with those of different cultures, to undo the colonialist wrongs of artificial boundaries that separated tribes – Yes, that sounds like an oxymoron to me too. How can you undo a wrong by doing exactly the same thing? But they have also tried to convince us that we can co-exist with an underclass as far removed from the ordinary hard working man as the footpad was from the tailor; worse, we are to pretend that we are all equal!
Support for those who fell on hard times used to be handed out along with morality – straight from the Bible. Now it is handed out along with the message that it is not your fault, you are as entitled to the spoils of our materialistic society as the next man, and it is the government's fault that you cannot afford those Nike trainers. That is the real difference.
Nick Clegg this morning held out the possibility of a 'non-enquiry' whatever that is, that would 'listen to the voices of all', and 'lift up' those at the bottom of society. Who does he intend to replace them with? – for as long as there is a top, there will be a bottom. Sure as eggs is eggs.
Are the Lib-Dumbs suggesting that we have a truly anarchical society? (I am told that should be a 'cholarchical society'!)
Will Clegg be handing over his house to the deserving poor?
August 17, 2011 at 00:57




August 16, 2011 at 21:42




August 16, 2011 at 20:09