Fisking the brain–dead Loony Left.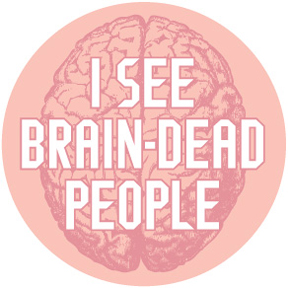 Sometimes I despair. The following is doing the rounds on the left wing blogs to loud applause in the social media. I flatly refuse to link to it.
My comments in red italics.
There are certain things that all humans need in order to survive: food, access to clean water, shelter, and clothes.
This applies to those innocent souls who were firebombed out of their houses too – it doesn't just apply to rioters potentially removed from social housing!
In Britain, when people are out of work, these means of living are provided by the state in the form of benefits and council housing.
Those firebombed out of their houses may well have access to benefits, but they won't be getting into council houses any time soon – there is a long waiting list!
Benefits currently stand at the minimum needed to provide these core necessities: Jobseekers' allowance for an 18-24 year-old (£2779.40 per year) is a ninth of the median working wage, less than a third of the national minimum wage for a 21+ working 30 hours a week, and less than half of the personal tax-free allowance.
Generous aren't we?
People who live in council houses have nowhere else to live. If they are evicted they become homeless, and may well have to sleep rough on the streets.
People who lived above those shops have nowhere else to live either. The 'evicted ones' will get a chance to understand how their victims must live.
The removal of benefits from people who have been involved in the recent disturbances that is currently being suggested by the conservative government will lead to thousands of people not having access to the most basic means of existence.
They will get a chance to discover how difficult life is now for those who either owned those shops or worked in them.
Benefits are already not there to give people a life: they are to stop people dying.
Shops are not there to be looted or set fire to. Those who invested their money into them or worked in them did so to enable them to hand over half the wages to support the looters in their chosen lifestyle.
Benefit claimants are often blamed for being out of work, but there are currently 5.4 people unemployed for every vacancy. There are simply not enough jobs for everyone.
A lot more people are out of work now – you cannot go to work in a shop which has had its front window caved in and its stock looted.
Over 200,000 people have signed a petition to the government asking that those involved in the disturbances have their benefits removed. The government and local councils are taking this seriously, and looking at means of instituting these procedures.
Many of the liberal commentators have criticized the plans of the government and local councils to remove benefits and evict tenants on the basis that it will "not help them get back on track" or will "increase crime rates".
They ought to be more concerned about many thousands of people dying of malnutrition, having no shelter, and no access to clean water. There has, so far, been no practical proposal from government on how these people are expected to live.
No access to clean water – where do you think you are, Somalia! There are soup kitchens, bus shelters and public toilets. That should be enough to be going on with.
Now, about the thousands of people who have had their home firebombed, their possessions destroyed, their jobs taken from them, their life savings sent up in flames. Do you not think you should be more concerned about them?
Please copy this message to others, reprint it on your websites, or link to it on facebook and twitter.
92 Retweets – are all your followers brain dead? Don't' answer that, I've just seen that one of them is Jacob Bard-Rosenberg. For crying out loud – you want to drum up sympathy for the man in the brand new Nike Trainers sitting at home waiting for a polite letter from the council telling him that he may, may, eventually, lose his council tenancy, and he'd better start looking for alternative accommodation; you can't even offer one word of sympathy for his poor victims who were made homeless, jobless and terrified with no warning at all!
Grrr!
August 19, 2011 at 15:31










August 20, 2011 at 08:21







August 18, 2011 at 16:34




August 18, 2011 at 08:40







August 18, 2011 at 02:34




August 17, 2011 at 21:06




August 17, 2011 at 20:05







August 17, 2011 at 19:53







August 19, 2011 at 15:28







August 19, 2011 at 15:28







August 17, 2011 at 19:34




August 17, 2011 at 19:19




August 17, 2011 at 16:20







August 17, 2011 at 19:09




August 17, 2011 at 16:17




August 17, 2011 at 16:16







August 17, 2011 at 16:08







August 17, 2011 at 18:22