Ten Reasons against the Death Penalty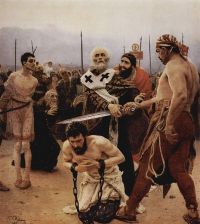 1 Timothy Evans – Executed on 9/3/1950 for killing his daughter at 10 Rillington Place. His neighbour John Reginald Halliday Christie was executed on 15/7/1953 for the crime after being found to be a serial killer. The fact that Christie was a special constable meant that no one believed that he could be a murderer whilst Evans was an illiterate welsh miner of poor health.
2 Colin Campbell Ross – An Australian executed in 24/4/1922 for the rape and murder of a child despite their being evidence that he was not guilty. He was posthumously pardoned in 2008.
3 Walter Rowland – Executed on 27/2/194. Even though he had an alibi from multiple police officers he had been released from prison after escaping the death sentence for killing his daughter which meant the jury thought he had form and convicted him. David Ware confessed to the crime but was not believed but went on to murder a woman in 1951.
4 George Kelly – Executed on 28/3/1950 but had his conviction quashed in June 2003.
5 Derek Bentley – Famous for his "Let him have it" quote was executed on 28/1/1953. His accomplice was a minor so was given a 10 year jail term. The phrase is ambiguous and heavily biased towards a police officer who had just had a colleague murdered by Christopher Craig. Pardoned in 1998.
6 Mahmood Hussein Mattan – Executed on 3/9/1952 in Cardiff for the murder of Lily Volpert. The Court of Appeal quashed his conviction after hearing of evidence that another Somali seaman had committed the crime.
7 Edith Thompson – Executed on 9/1/1923. She had been having an affair with Frederick Bywaters who had actually committed the crime. Due to this connection she was guilty by common purpose.
8 Edward Devlin and Alfred Burns – Executed on 25/4/1952 when the evidence was circumstantial at best. They didn't help themselves with confusing alibis and their criminal past. Questions still remain about their guilt or lack of.
9 William Joyce (Lord Haw Haw) – Executed on 3/1/1946 for treason even though he was an American citizen. His Britishness extended to holding a fraudulently obtained fake passport. Because of this he was held to have owed allegiance to the British sovereign. It shows how far the State will go to get it's way.
10 – 138 being the number of Americans exonerated whilst on death row or after execution.
The picture is of Saint Nicholas of Myra as he seizes the executioner's sword in order to save at the last moment three wrongly condemned prisoners (oil painting by Ilya Repin, 1888, State Russian Museum).






August 5, 2011 at 16:12




August 5, 2011 at 10:05




August 4, 2011 at 13:54







August 4, 2011 at 15:15







August 4, 2011 at 18:10




August 4, 2011 at 13:18







August 3, 2011 at 21:55









August 3, 2011 at 21:01










August 3, 2011 at 21:28










August 3, 2011 at 21:23




August 3, 2011 at 22:15










August 3, 2011 at 22:30







August 4, 2011 at 01:10







August 4, 2011 at 06:20




August 3, 2011 at 20:08







August 3, 2011 at 19:55




August 3, 2011 at 19:36










August 3, 2011 at 19:46







August 3, 2011 at 20:03




August 3, 2011 at 19:31










August 3, 2011 at 19:47







August 3, 2011 at 20:00




August 3, 2011 at 18:37







August 3, 2011 at 15:01







August 3, 2011 at 14:44







August 3, 2011 at 13:52







August 3, 2011 at 13:19










August 3, 2011 at 13:20







August 3, 2011 at 13:24







August
3, 2011 at 13:42





August
3, 2011 at 14:12


August 3, 2011 at 14:24







August 3, 2011 at 11:49







August 3, 2011 at 11:47




August 3, 2011 at 11:32










August 3, 2011 at 12:16




August 3, 2011 at 11:16







August 3, 2011 at 08:56