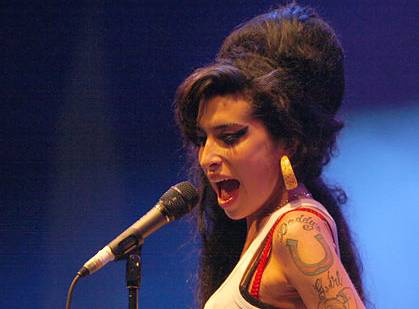 This post is a first guest article from Ellee Seymour, who blogs at elleeseymour.com.
I'm playing Amy's poignant Back to Black as I write this.
We have read so much about Amy Winehouse's untimely death in the last week, there is very little to add. Death is always a sharp reminder of our own mortality, of leaving behind broken hearted loved ones to grieve who wish they could have done more.
Amy's early death reminded me of my dear friend Sue who died from drink, as well as three other friends too, all decent people with personal torments who were were far too young to die. They didn't cover their bodies with tattoos like Amy, they were all intelligent and amusing and I felt helpless as I watched their decline, their inability to fight their "demons". In Amy's case this was a toxic cocktail of fame, personal wealth to feed her habits, a broken heart we are told, feelings of worthlessness; all this on top of her addiction to drink and drugs.
Would Amy's death had been so shocking had it been a male rock star? I don't think so. It seems so much worse when it happens to a woman.
I wonder what difference there is between Amy's death and that of Marilyn Monroe's overdose, and soprano Maria Callas's early death, which many have said was the result of unrequited love after Aristotle Onassis' marriage to Jackie Kennedy.
These are very different women, all wonderfully talented in different ways, yet all emotionally fragile all with unhappy love lives and feelings of inadequacy, who all purportedly self-destructed to a greater or lesser degree, and sadly, all died too young.