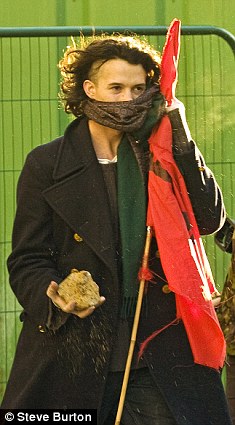 The idea of accepting personal responsibility for anything seems to have gone the same way as straw hat and white gloves with a summer dress, an anachronism that we barely remember and cannot begin to conjure up an explanation for.
Polly Samson clearly sees herself as the victim and graciously accepts the commiserations of her fan club as she bemoans the fate of her 'poor gentle boy', incarcerated by the overbearing state she wishes to see enlarged … perhaps in his Harry Potter reincarnation conjured up for the TV news as he went to court, complete with suitably studious rimless glasses, she was able to convince herself that he was either poor or gentle:
[blackbirdpie id="91893126519730177″]
But the unwashed version, holding a rock and a red flag that appeared in the national papers should surely have introduced a spot of self recrimination in her victimhood? Perhaps she should not have left learning the meaning of the cenotaph to Cambridge University at such a late stage in his life? Perhaps she could have done that spot of educating herself?
But then it wasn't his fault that he didn't recognise the cenotaph, it was all the fault of the LSD, Valium and Whisky that he had combined before his 'student riot' excursion.
It wasn't even his responsibility that he had taken that cocktail – that was the responsibility of his natural father who had written an e-mail to him that he disliked. I haven't yet uncovered whose fault it was that Father had penned that missive, but no doubt it was down to the Gas Board wrongly calculating his bill that month…..
A few doors away from us, a holiday home recently changed hands. The previous incumbent was sadly diagnosed with breast cancer, and decided to retreat back to the NHS rather than grapple with the French language and avail herself of the excellent French medical service. C'est sa vie.
A long standing row had been ranging with her neighbour, another holiday home only occupied six weeks of the year, over the level of noise made by the lavatory if you please. No sooner had the new owner – a delightful permanent resident –moved in, than the holiday residents appeared for their annual six week stay.
The new owner was aware that they had complained to the Notaire about this problem wasn't she? No. But they had left strict instructions with the Estate Agent that any prospective purchasers were to be made aware that they required the bathroom to be moved and the wall soundproofed! Sheesh!
'B-b-b-ut, the wall has two sides' said I, in my simplistic way, 'why don't they just soundproof their side of the wall if they are that bothered?' Why should they, was the general response, it's not their fault that she doesn't go to bed until 11 0'clock at night and then flushes the loo……..
Everything is someone else's fault, not your responsibility.
In England, Minister's are 'shamed' by the 8% increase in the number of plastic bags on beaches. It is not the fault of those who throw their bags away on beaches, it is the fault of ministers who have failed in their task of banning the public from access to these bags.
Jake Davis emerges from Westminster Magistrates Court in designer sunglasses, waving the fashionable white flag of Autism to the assembled press – 'it's not my fault', autism made me hack….
In America, a man is suing the Hilton Hotel Group for 5 million dollars compensation for leaving a 'free' newspaper outside his bedroom door, he didn't want it, wasn't interested in US news – Such "offensive waste of precious resources and energy" undermines government policy "to avoid unnecessary waste and accumulation of garbage, to conserve energy sources and to protect the environment from unnecessary and unreasonable impact," he said.
Against this background, Guido 'Don Quixote' Fawkes is tilting at Capital Punishment, 'Bring Back Hanging' – the ultimate example of taking personal responsibility; he must be joking! Nice idea Guido, but you would have more chance of bringing back the hat and white gloves….
We might have judges happy to sentence elderly ladies to death because its 'not their fault' that they can't make the decision that they want to die themselves…but heaven forbid that we should become a country where murderers take responsibility for their actions.
August 4, 2011 at 18:02




August 4, 2011 at 09:10




August 3, 2011 at 20:22




August 3, 2011 at 12:00










August 2, 2011 at 20:25










August 2, 2011 at 18:41




August 2, 2011 at 17:26




August 2, 2011 at 17:10







August 2, 2011 at 16:11







August 2, 2011 at 15:45