And why did you miss Stuart Broad's Hat-trick?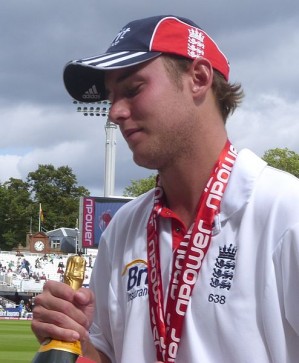 In the Trent Bridge Test Match, Stuart Broad scored took (*) a hat-trick on the way to bowling figures of 5 wickets for zero runs.
(*) I was clean bowled by a pendant scorer in the comments.
Many people blinked and missed the hat-trick, and on Test Match Special they received a number of emails with (alleged?) excuses as to why listeners had missed the crucial moment.
Here is the video clip:
That nick of the bat in the 2nd wicket of the three, which was given out Leg Before Wicket, should perhaps have been more controversial than was the case. But for some reason everyone seems to have ignored it.
And I have posted a snippet of the TMS 'excuses' below.
One claimed that the caller had issued a celebratory "YES !!" just after the Priest at a wedding had said the crucial words:
If any of you know cause or just impediment why these persons should not be joined together in Holy Matrimony, you are to declare it.
As somebody who has watched cricket, and also been to a themed wedding reception at a cricket club, I can quite believe it.
This segment also contains what may be the only footage ever recorded of Geoffrey Boycott apologising to anyone for any reason whatsoever, and only then under the tender ministrations of Mrs Geoffrey Boycott.
The excuses start about 1 minute in, after the apology.