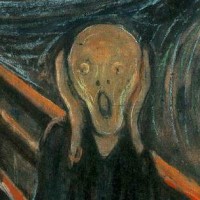 It is a terrible thing to live with, fear and anxiety. My heart goes out to anyone who lies awake at night, fearful and anxious that a much loved son is not yet home from a night out on his motor bike; perhaps they are awaiting medical results and catch their breath every few minutes at the prospect of being given the dread words 'there's nothing we can do for you'. There are numerous circumstances that find all of us suffering from fear and anxiety at some point in our lives; it is a debilitating condition that deserves our sympathy.
I had never before considered the possibility that someone could be suffering from fear and anxiety at the prospect of good news, terrified that they might be told they had won the lottery, or perhaps they were not dying after all and would go on to live a healthy life.
It seems that 84,000 people in the North East of England are suffering from just such a phobia of good news. Perhaps phobia is too strong a word; they are suffering from 'fear and anxiety' that they might receive 'good news' according to the Northern Echo.
They are all people who have had the cursory six minute examination that the NHS allots their Doctor, who has pronounced them unfit for work. Now they are to be given, free of charge, a 20 minute to two hour through examination to see whether the Doctor was right.
Are they thrilled at this potential opportunity to remove a blight from their life? Not at all – they are positively quivering in their boots, lying awake at night, some even contemplating suicide allegedly, at the prospect of being declared hale and hearty, free to live a life of independence, pride, and self confidence.
They have been complaining to a committee of sympathetic MPs that answering a question such as 'Do you watch East Enders' has resulted in large numbers of them being found able to 'sit for 30 minutes at a time' and that this is a trick question and an unacceptable means of judging their health. They should be asked 'whether they can sit for 30 minutes at a time', to which they would naturally have replied No…
A Guardian reader offered to allow a reporter to accompany him on such a recent assessment. He suffers from epilepsy, Asperger's syndrome, and anxiety.
Epilepsy comes in many forms, and we are not told how severe or what form his epilepsy takes. For some it is a debilitating life threatening condition, for others it is 'just one of those things' that they take in their stride, like hay fever, a temporary blip in their ability to enjoy life to the full. I have known nurses who have fought successfully to be allowed to return to work, with the life of others resting in their hands, following a diagnosis of epilepsy. Perhaps this man held a Public Service Vehicle licence, in which case such a diagnosis would have been the end of his employment – but not of all employment, you may still be able to drive a car.
Asperger's syndrome can be a positive advantage in some jobs, again we are not told what form or how severe this condition is.
Which just leaves us with the anxiety. Is this 'Northern Echo' type anxiety, anxiety at being given the good news that life as he knows it, has not come to an end?
After a while, the tone of the interview became much more business-like, the sympathetic murmurings stopped and the questions became more rapid. "Do you cry?" she asked, trying to gauge the seriousness of his anxiety. "Do you feel that life is not worth living?" "Do you feel that you can't go on?" The replies (no) were typed in swiftly.
Two weeks later, the Guardian's test chappie was judged fit to work on a temporary basis to see how he got on, but with extra support to help him acclimatise to this new world. I assume from the fact that this information was slipped into the end of a lengthy article explaining how harsh were these new tests that we are intended to be appalled at this result, presumably why we weren't told how severe were the relative illnesses.
So far, some 60% of claimants have been found fit to work in some form or another, many are now complaining to their MPs that this labelling implies that they were previously 'benefit cheats'.
I am far more concerned at the idea that being labelled 'epileptic', or Asperger's, or even 'anxious' after a six minute examination should result in you being seen as unfit to play a useful part in our community for ever more.
Strange, the Guardian doesn't seem to be at all concerned at that notion.
July 27, 2011 at 07:50







July 26, 2011 at 20:41




July 26, 2011 at 20:33




July 26, 2011 at 16:30




July 26, 2011 at 16:05







July 26, 2011 at 15:37




July 26, 2011 at 15:30







July 26, 2011 at 15:21