Why is national socialism worse than internatio​nal socialism?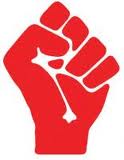 In a previous post, I discussed my thesis that the "social" in any kind of "socialism" involved pushing the costs for bad things onto society as a whole. This always entails other consequences, such as a degree of growth in the apparatus of state, and the state "directing" things more closely, whether it be taxpayer-funded contracts for approved corporates (hello, Capita!) or increasing micro-management of people's lives (the so-called nanny state).
Now, there are arguments for socializing costs (apparently we can make more "civilized" decisions) and there are arguments against socializing costs (they hide the costs of decisions, eventually you run out of other people's money). But if you assume that that the arguments for socializing costs (with their consequent knock-on nannying and corporatism) then why is the idea of "national socialism" inherently much more repellent than "international socialism"?
National socialism certainly has some tainted associations! It was the policy of the National Socialist German Workers' Party in the 1930′s, which didn't end well. It is also currently the policy of the British National Party, which certainly does appear to attract a particular type of political anorak, shall we say.
But then international socialism was the policy of cuddly teddy bears like Uncle Joe Stalin, who is thought to have killed more than ten million of his own people to hang on to the reins of power. Many millions more around the world have died because of international socialism, yet of the two policies, International Socialism continues to enjoy good press.
Indeed, decades after the Soviet Union collapsed, we have the European Union introducing uniform socialist policies across numerous European countries. If there is anything since the Soviet Union that even comes close to the International Socialism of the EU, I'd really like to know what it is.
So given that the main economic point of national socialism is to amortize costs across a nation, why is it so vilified compared to trying to amortize costs across multiple nations?



July 18, 2011 at 20:52







July 18, 2011 at 14:36




July 18, 2011 at 09:54







July 18, 2011 at 09:56




July 18, 2011 at 06:20







July 17, 2011 at 18:14




July 17, 2011 at 17:13







July 17, 2011 at 17:08










July 17, 2011 at 18:44




July 17, 2011 at 17:07







July 17, 2011 at 16:21




July 17, 2011 at 13:36







July 18, 2011 at 06:26




July 18, 2011 at 14:15







July 17, 2011 at 13:21




July 17, 2011 at 13:15







July 17, 2011 at 12:38