I love my friends, and my friends love me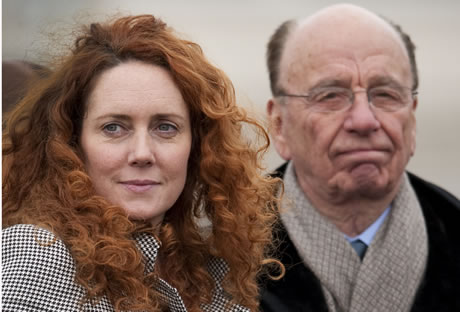 Is it too early to gain perspective and draw conclusions from the phone hacking scandal?
Perhaps, because one might argue that "the facts" have not yet been established. On the other hand, I have some cynicism about whether "the facts" ever really emerge.
I have to confess that in another life I was much involved with court cases of many different types, and it was rare indeed to find that the court got to "the truth". It occasionally happened by accident, but with good lawyers involved it rarely did. One of the very purposes of good lawyers is to stop that happening at all costs.
Sometimes the wider, more instinctively understood picture is more important. I think we can form a view on this matter, but I am torn between two perspectives.
One is that the world is going to hell in a handcart.
The other is that it is no big deal. It's just business as usual, albeit a bit of light has been shone on some murky practices which have always been going on.
Let me try to explain these two perspectives.
Are we going to Hell in a Handcart?
From the "hell in a handcart" scenario, I suggest we cannot look at the phone hacking scandal in isolation. It has to be set in the wider context of the relationship between narrow metropolitan elite, the press, and the police.
First we have MP's of various standing and background, most of whom have been busily crawling up Rupert Murdoch's arse for years, baying for blood as revenge for the expenses scandal, and indeed for daring to question them. Rank hypocrisy.
Indeed, one of the attacks on Miss Brooks over the phone hacking scandal I have repeatedly heard is the familiar "knight's fork" as we say in chess. If she knew about it, she has to resign. If she didn't know about it, she ought to have done, and ought to resign.
Maybe it's right, but I find that particularly hard to swallow when so many MP's have had to correct "mistakes" over their expenses. By the same logic a swathe would be cut through Parliament.
Leaving aside the hypocrisy is the issue of "political incest". The great Tom Lehrer wrote a fabulously witty song (did he ever do anything else?) called "I got it from Agnes." It begins thus:
I love my friends and they love me
We're just as close as we can be
And just because we really care
Whatever we get, we share!
I got it from Agnes
She got it from Jim
We all agree it must have been
Louise who gave it to him….
Rare footage of it can be found here on Youtube, and embedded below:
Oh, how prescient when we look at the incestuous political world of Westminster and its suburb, the Cotswolds.
Dave goes for a Sunday morning ride with Rebekah.
Rebekah used to work for Andy,
who in turn works for Rupert.
Andy used to work for Dave too.
Rebekah is friends with Sam Cam,
but Rebekah is also friends with Cherie and Tony.
Tony liked Rupert a lot
but now doesn't like him any more.
Gordon wanted to be liked by Rupert,
but was VERY upset when he heard
that people who worked for Rupert
had allegedly used naughty ways
to find out about his son being ill.
But Gordon kept cultivating Rupert,
because it would help him get back at Tony.
Indeed Gordon was so upset about it that he did….erm, nothing. Indeed, and as I understand it, he kept on writing columns for the News of the World and to quote from another of the Murdoch stable, yesterday's Sunday Times, in his passion to overthrow Tony "he went out of his way to cultivate Rupert Murdoch and News International's newspapers".
Rupert's minions have in fact been up to no good, and hacked the phones not just of wicked politicians but of a missing teenager, potentially increasing the stress of her desperate family.
The police have been involved, but amazingly, it seems, the full extent of the phone hacking racket never reached the public gaze.
Even more amazingly, one of the chief investigators goes to work for News International. And it seems that there may have been some inappropriate top ups to police pay from questionable sources.
Now it appears the Chief of The Metropolitan Police has received a "free lunch" in the form of a holiday at Champneys worth £12,000. I do not believe in free lunches, by the way. The universal order does not permit them in physics or politics. Somebody connected to somebody else procured this junket. And now he has had to resign!
And so it goes, on and on, round and round.
What we have here, then, is the byzantine machinations of a liberal elite, self serving, avaricious for power, as politically (and who knows in what other senses?) incestuous and poisonous as the Borgias, but with rather less class and style and wit.
Brown cries crocodile tears for intrusions into his private life. Millibandias, King of Kings, uses it all as a weapon to wound iDave. I heard a wonderfully offensive interview with him last week. I remember the line: "This should all be about poor innocent victims, like Millie [Dowler]. It should not be about point scoring between politicians. But David Cameron should now admit that…." bla bla bla.
Pass the sick bag, please.
And Dave from Oxford does not come out it very well either. What were you thinking employing Coulson?
Greedy. Posturing. Self referential. False. Intellectually dishonest. Corrupt. And at the centre of a spider's web of influence and gossip, Rebekah Brooks, the seductress Salome of the former Fleet Street, Murdoch's anointed adopted High Priestess.
But on other hand…..
Was the world was always thus?
Government has always been run by cabals and factions, and at one can say that all sophisticated societies will end up being dominated by an elite metropolitan political group.
One could say the same of Rome.
Birds of a feather flock together: they always have and always will.
The press and politicians have in modern times inevitably enjoyed a close relationship. But how could it be other in a functioning democracy?
When it comes to abuse of press power, there have been those more abusive than Murdoch – think of Lord Beaverbrook.
The British press have always been utterly ruthless in their pursuit of a good story: the Victorian press was particularly fond of tittle tattle and a good scandal, particularly if there was murder involved. And the press and the police have always worked together in … let's call them mysterious ways.
Anyone who thinks the CID don't regularly whore themselves to the press for a few pints or more and the odd tip off in return is living in cloud cuckoo land. And the Met is the most famously corrupt force in the land (allegedly).
What we have then is a storm in the Westminster tea cup, and not more than that. Posturing and point scoring, full of sound and fury, signifying nothing. The Dowler connection has simply caused the public to "go off on one", but all that is being revealed is how politics works, and probably has to work, and always will.
As the police might say: Move along here, there's nothing to see…
As for Miss Brooks, she has been loyal to her boss, and was just in the wrong place at the wrong time. Being a self evidently fiery (ask Ross Kemp!) red headed woman, she's an easy target on many levels for the latently sexist press.
And from the distinctly overtly sexists point of view, I can see the attraction. . I've sort of been there, , she reminds me in many ways very much of someone I used to knows…
But I digress.
Conclusions?
Perhaps we are somewhere between the two stereotypes above. I don't know.
What does this furore tell us about modern Britain, the way we are governed and how we react to that?
The whole mess has claimed another scalp, the Metropolitan Police Commissioner Sir Paul Stephenson.
Where will it end? What does it signify?
My suspicion is Cameron will be fatally wounded by this.
Your views would be welcome.
Gildas the Monk
July 19, 2011 at 19:26




July 18, 2011 at 23:34




July 18, 2011 at 22:59







July 19, 2011 at 00:42







July 18, 2011 at 22:52







July 18, 2011 at 21:32




July 18, 2011 at 21:00




July 18, 2011 at 19:53







July 18, 2011 at 19:49







July 19, 2011 at 11:50




July 18, 2011 at 19:44




July 18, 2011 at 18:33







July 18, 2011 at 18:07










July 18, 2011 at 19:47




July 18, 2011 at 15:15







July 18, 2011 at 20:09







July 18, 2011 at 15:07




July 18, 2011 at 14:18







July 18, 2011 at 14:07







July 18, 2011 at 13:50







July 18, 2011 at 13:50










July 18, 2011 at 14:31







July 19, 2011 at 09:16