In Praise of Public Sewers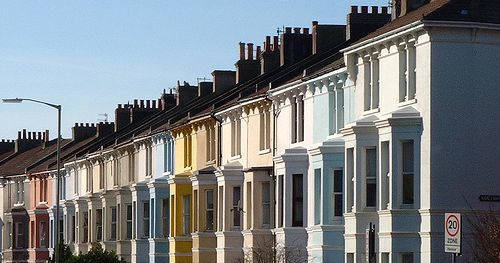 In Anna's piece about the Reverse Dutch Steamboat (good job it wasn't Reverse Dutch Steam Clean; that would hurt), she took a sideswipe at the proposal that shared private sewers and drains should be transferred to Water Companies:
Thames Water, that statist corporation so named to bring to mind images of Runnymede and the hard won rights to the Barons to preserve some semblance of dignity against the encroachment of the state, has announced that by virtue of the powers invested in Defra, they are reversing the 1936 Act which allowed you to keep control of your sh*t until it left your property – and henceforth, all those pipes – and contents – which lay under your land and connected with the 'public' sewer system, will belong to them.

Some 125,000 km of private pipes on private land, owned by 10 million property owners, will, after the 1st October 2011, belong to the government.
Anna frames the problem as taking away control of their own .. er .. *output* .. from people on their own property:
'Everybody, every last one of you must pay up to £14 a year extra to ensure that if Mrs Woods at No 18 chooses to flush her unloved cactus plant down the loo, thus blocking her own drain and no one else's, that she doesn't bear the cost of this action personally – we will all pay for her fool hardy action'.
I think Anna is looking from the wrong end of the pipe this time, as was the Angry Anarchist who covered the story first.
I had my notification from Severn Trent the other day about my sewers being taken over, and I couldn't be happier.
There will be no restriction whatsoever on sending your own cacti through your own pipes, though you should remember to flush before sitting down again.
The Water Company will only take control of your pipes where those pipes are shared; your cactus-flushing fetish will only be interfered with should your cactus block somebody else's drain or sewer, or restrict their right to sh*t through the pipe that belongs to you.
Severn-Trent puts it like this:
Post-transfer
• All sewers transfer
• All laterals outside property boundaries transfer
However
• Home owners will remain responsible for the private drains within their boundary.
Private treatment works, septic tanks, drains (serving one property) within property boundaries and surface water drains are not included in the transfer.
So you won't lose control of your pipe, as long as it is an exclusive pipe on your own property.
Let me try a thought experiment to explore the changes.
Imagine Commentariat Terrace, a row of houses.
These houses are occupied by 8 neighbours who live on a slight hill: Polly, Solly, Molly, Penny, Lenny, Denny, Quentin, and Little Johann on the end. Little Johann is at the top of the hill.
This could be a row of Terraces in the People's Republic of Bolsover, or it could be a group of houses built on Polly's old garden in London.
Due to the way the geography works, each neighbour's drains go over all the other neighbours' gardens. This is a normal UK arrangement, and occurs everywhere. The responsibility for the drainage and sewers works like this: At present, for the next 2 months, Little Johann is spending more time at home than usual, for some reason, and the drains are more heavily loaded because he is having lots of parties.
Little Johann's 'drainage' causes a blockage in the drain under Polly's garden between the place where the connection from Solly's drain comes under the fence, and where it joins her own main drain.
Unfortunately the blockage is sited exactly where Polly has built her own mini-Roman Temple, her Rhetorarium, made out of Umbrian Marble from her own quarry, where she does her writing – firstly giving a speech for polemical vigour, then writing it down for posterity.
Solly and Molly are away on holiday, and Penny is off somewhere, supporting people occupying a building while trying to kick-start a revolution. She is attempting to convince everyone that a group of incomers occupying a building, while scuppering a planned local voluntary project, is a good thing for the local area; you have to at least admire her creative streak.
Therefore Lenny is the first to discover that there is a problem, when his loo doesn't flush.
Solly and Molly are unavailable, and Penny is away for the time being, so Lenny talks to Polly about the blockage which exists somewhere between her Roman Rhetero-Temple and his – Lenny's – garden, 4 doors up. Polly says:
"Mine works fine, and the output is at normal levels. It must most likely be a problem with Solly, Molly or Penny. I'll dig up the floor of my temple when you have proved the problem is here, and not before."
And then Polly returns to feeding the Ring-Necked Parakeets in the garden; a completely logical response form Polly's viewpoint.
There is no problem with drainage for Polly's own output, even though the blockage is under her garden. Nor is there a particular problem for Little Johann yet. His own drainage works fine, and he can have as many wild fantasy parties as he likes, until the smell comes back up the hill and catches him by surprise.
Legally the repair is Polly's responsiblity, but she will get no benefit – apart from less aggro – from taking action. She *may* be covered for any damage by her Buildings insurance, or she may not.
But someone has to get a man in to investigate the problem. Who?
How is Lenny supposed to get permission from Solly, Molly or Penny to work under or in their gardens when they are 'indisposed'?
And who will pay for employing the contractors to clear the blockage, and perhaps to restore Polly's Rhetero-Temple and fill in the hole in the ground?
And what is to stop Little Johann from doing exactly the same thing next month when he has his next party, and where is the motivation to make him care, anyway?
Not exactly an ideal situation.
Enter stage left a thoroughly sensible proposal that all shared 'private' sewers and drains should be the responsibility of the Water Companies to repair, and a miniscule increase in the cost of water bills to pay for it.
This will change the situation in the diagram at the start to be like this: That is, the householder will be responsible for sewers and drains which carry their own sewage and drainage within the boundaries of their own property, but the Water Companies will be responsible for shared sewers and drains whereever they are.
Polly, Solly, Molly, Penny, Lenny, Danny, Quentin, and of course Little Johann, can rest easy. The water company will be responsible for solving the problem and the whole thing will be a lot simpler. And all for about a tenner each per year.
They should have done this 50 years ago.
And Quentin went "HARRUMPH! WHAT PROBLEM!" through a megaphone, and returned to his quinine-drops, his Daily Mail, and the Glen Baxter Annual 1981 Edition, oblivious to everything else.
(*) Any resemblance to any characters living or dead may be intentional, but elements of garden and household furniture, and the incidents mentioned, are imaginary – with just a few exceptions.
Credit for photo of Commentariat Terrace: Dominicspics.
Dramatis Personae: 1, 2, 3, 4.
[Update: Joe Public, in the comments, draws our attention to a problem – or possibly a way for Ken Clarke to reduce the Prisons' Budget – with personal 'maintenance' of private cess-pits.]
July 16, 2011 at 16:24




July 16, 2011 at 16:06




July 16, 2011 at 14:14




July 16, 2011 at 13:49










July 16, 2011 at 16:03




July 16, 2011 at 13:02







July 16, 2011 at 12:46










July 16, 2011 at 12:57







July 16, 2011 at 13:17




July 16, 2011 at 10:21










July 16, 2011 at 10:26




July 16, 2011 at 16:02




July 16, 2011 at 08:37







July 16, 2011 at 08:27