Thanks Ricky for Saving us From Another Sad Tale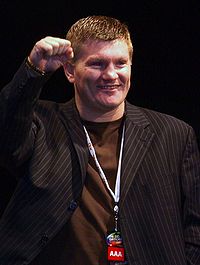 I saw Ricky Hatton in February while at the press conference for the Steve Foster jnr vs Ermano Fegatilli European title fight on behalf of boxing-articles.com. He looked healthier and happier than he had for some time, appearing content with his work as a promoter and the sense of direction and purpose that come with it. In this sense, Hatton's announcement last week that he had officially retired as a fighter himself was no great surprise, but it still represented a blessed relief to those who understand something about the sport and the yearning that its participants often feel for "one last song for the road".
Such engagements would no doubt have been available had Ricky been tempted to climb through the ropes again at any point in the near future. Next Saturday, Britain's Amir Khan takes on former Welterweight boss Zab Judah to unify the WBA/IBF titles in the 140lb division that Hatton himself ruled for so long. With his name still holding significant currency in pugilistic circles, a fight with the winner would not have been an unrealistic proposition – and with Khan himself a huge name known to even the most casual fan, the potential rewards for such an encounter would no doubt have run into several millions of pounds. A bout against Judah in the US, though not quite on the same scale as an occasion, would still have netted a tidy sum, and so the aspect of Ricky's retirement that I suppose is most pleasing is the finality of it – the sense that it is a genuine departure from top-level competition as opposed to a decision made out of immediate expediency.
Boxing is a sport where some unwanted traits happen to coincide amongst many of its competitors. It is of course a highly individualistic game which brings structure, purpose and a means of name recognition to many whose lives may well lack all three in its absence. The routine of training every morning, preparing for a fight, sparring men of similar style and stature to your opponent and then hearing your acclaim of the crowd as you walk to the ring are naturally highly magnetic and even addictive. Former World Champion Barry McGuigan indeed referred to this schedule as "being like a class A drug". Much-loved British heavyweight Frank Bruno slipped into a spiral of depression and instability once this way of life was taken away from him after his retirement in 1996, briefly attempting to regain his lost sense of mojo by announcing at the age of 42 that he intended to launch a comeback with a fight against former Olympic gold medalist and under-achieving pro Audley Harrison.
This brings us quite neatly onto the next point, that boxers themselves are often the last to acknowledge that their peak has long passed them, and that they will never be able to scale the heights that they once did. For every George Foreman who manages to relive something resembling their past glories years after the event, we could name a shopping list of fighters who tarnished their legacy by going on for far too long, often risking serious injury to themselves in the process. Anyone who watched one of Evander Holyfield's 'epic' WBF title fights (a strap once held by Harrison as it happens) will know that this is a classic case in point of a man clinging to his past, falsely believing that it can be recreated. Holyfield talked as recently as last year of once again becoming the undisputed champion of the world, despite being in his fourth decade as a fighter and with his 49th birthday falling in October. They say that the power is the last thing to go, and there may be some truth in this, but other important aspects such as the ability to slip or absorb punches have a tendency to decline with noticeable speed.
Of course, legacy and achievement are not the only reasons for which a boxer may go on for far too long. Cold hard cash has its part to play as well, with most fighters not especially well-equipped to manage the rewards of their profession, or simply ensure that they are not being ripped off. After losing his final fight to Kevin McBride in 2005, Mike Tyson admitted "my heart isn't in this sport anymore – I've got bills to pay", having somehow overseen the disappearance of career earnings around the $300 million mark. Probably the most tragic figure who carried on 'for the money' was Muhammad Ali, who was showing the early signs of Parkinson's disease between some of his later fights. At the centre of both of these mens' stories of course was Don King, a promoter who former Ali-conqueror Larry Holmes once described as "an equal opportunities dirtbag – he screws everybody". When one considers also that former King favourite Gerald McLellan received only £119,000 as opposed to the original contracted amount of £450,000 for a fight in which he lost his sight and suffered brain damage, it is hard to argue with Holmes' analysis.
King is of course the most high profile case of a manager/promoter who leaves fighters asking, "where did my money go?", but is far from alone in a business where the honest efforts of its combatants have a knack of attracting the interest of the dishonest and unscrupulous. In his video "Boxing's Hard Men", former Super Middleweight boss Steve Collins attempted to address this question while promoting the sport to kids, "they say there are a lot of shady and bad people in boxing and it's true – but there are also a lot of nice people in boxing and the nice people are the boxers". There is more than a grain of truth in this, but is of little consolation to those who feel that they have been short-changed by those claiming to represent their interests. With all this in mind, it is little wonder they sometimes refer to the life of a boxer as a journey "from rags to riches and then rags again", and while I've never seen a bout and then been as sure as anything that a fighter took a dive, it is perhaps not difficult to understand why someone may have done so.
Hatton Promotions represents something of a break in the right direction in this area – "the company's philosophy is to treat the fighters fairly and always deliver its promise. Ricky and Gareth believe that if they have happy, motivated fighters, who are well looked after, this will lead to success in and out of the ring." Ricky's own words on the subject are equally refreshing from someone who now finds himself on the other side of the negotiating table, "When it comes to the finances, the boxer should always get the lion's share…I want to make money, but I'm happy to make a little bit and give the majority to the boxer. Working with Golden Boy has opened my eyes to the way to do it. They show everything that's on the table. You should not be hiding anything from the fighters. They should know exactly what's in the pot and say: 'You have that and I'll have that'. It's been done in America, but I don't think it's been done in this country yet." With a bit of luck, such an attitude towards his fighters will provide them with the security to leave the sport at the right time, like he has.
Hatton can himself look back on a 45-2 professional record, with those losses coming to two of the modern greats in Floyd Mayweather and Manny Pacquiao. No shame whatsoever in that, and he matched the stated aim of his promotional company to "always deliver its promise" by travelling to America and taking on the worlds elite pound-for-pound fighters. He may not have been the single most talented boxer to have hailed from these shores, and his lifestyle out of the ring perhaps took a year or two from his career at the top level, but Ricky undeniably got the most that he could from his time in the ring in terms of both achievement and rewards, and left some vivid marks on mortality. The partisan atmosphere of the football ground followed his fights and turned them into contests with a unique atmosphere, some of which Hatton Promotions are clearly attempting to replicate in their shows, which are usually better than most.
However, it is unlikely that over 100,000 people will travel from these shores to follow a fighter overseas for a very long time, and in that sense Hatton truly 'cracked America' in a way that another Mancunian phenomenon, Oasis, never quite managed. Yes his supporters booed the national anthem of his opponent, something we would come to expect from soccer fans, but they also managed to turn what should have been an 'away fight' into a battle on something resembling familiar territory. Nor should we forget the small matter of that intense night at the MEN in June 2005, when he broke into the big league by forcing the teak-tough Kostya Tszyu to quit on his stool after eleven gruelling rounds. It is appropriate that these are the occasions for which Ricky will be remembered, as opposed to the sight of a man taking one fight and one punch too many against an opponent he would no doubt have crushed but a few years earlier.
That he has hung up his gloves while still in possession of his legacy, health and most of his wealth would suggest that he is one of boxing's smarter operators, who understands when he owes the sport and its fans no more. He has earned his time out of the ring equally as much as he did those accolades bestowed upon him while competing in it…
Daz Pearce – OutspokenRabbit