Stony Stratford – The Final Ban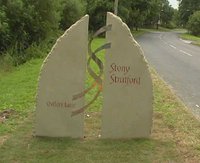 Many of you will have already heard about Stony Stratford and it's recent claim to infamy by a local councillor. No, it's not a cock and bull story. For those of you who haven't here is a quick run down of the situation.
Paul Bartlett is a local councillor for Stony Stratford, Buckinghamshire. He is someone who is desperate for some publicity and has picked smoking as the subject by which to gain it. So desperate is he for publicity he has hyped up the danger and problem of smoking to the max.
He is proposing a ban on smoking in Stony Stratford. Now you probably already know that smoking inside public buildings is already banned so you are probably wondering where else he is banning smoking. The reason is because he is banning smoking in the only other public place not covered by the current law – outside. And not just outside near school gates or around kids playgrounds. No, everywhere in Stony Stratford where there isn't something to stop you seeing the sky.
Cllr Bartlett is claiming [skip to 35min in to listen to him] that walking down the street behind someone who is smoking and breathing in the smelling smoke is an extreme danger to health. He also says that spitting in the street is a vile habit and that dropping cigarette butts covered in saliva is the same. This is because an innocent child could pick up a butt covered in diseased DNA from a smoker. To prove that Stony Stratford is covered in discarded cigarette butts he went to the Tesco supermarket in Kingston, Milton Keynes – 10 miles away from Stony Stratford. I suspect he was planning on TV viewers not noticing that he wasn't at the Tesco in Stony Stratford. Unfortunately the power of the Internet, specifically Google Maps shoots him down on that point.
The power of the Internet is also organising a campaign against Paul Bartlett, little hitler that he is. Dick Puddlecote has been arranging for a demo at Stony Stratford this Saturday (16th July 2011) to show that Cllr Bartlett has very little support and that the majority of people are actually in favour of the status quo. His proposed bylaw would also be counter productive to the needs of Stony Stratford as it would harm businesses in the town.
Now this law is only a bylaw, not a full blown one. And it would have to be approved not just by the town council of Stony Stratford but also by Milton Keynes council. So it would be very unlikely to actually get passed. However that is not the point about this campaign against Cllr Paul Bartlett.
The point is to show that there is a limit to how far you can ban things before people rebel. People can be fooled some of the time, but they can't be fooled all the time. There comes a time when all the PR about smoking, drinking, eating, breathing being a dangerous activity that harms not just those who indulge in it but everyone else as well via 2nd hand, 3rd hand and even fourth hand methods goes so far it becomes unbelievable.
So please listen in on twitter for the #StonyStandoff hashtag, go on facebook to find out who is attending and visit Dick's blog to get the low down on the event. If you can possibly get to Stony Stratford on Saturday for 11am then make every attempt to do so. Even if you don't smoke please attend on the principle. For if it isn't smoking that is banned it could be alcohol or fatty foods next or even planking.
UPDATE: For details of how the day went visit Dick's blog.



July 15, 2011 at 07:39




July 14, 2011 at 21:10




July 14, 2011 at 18:15







July 14, 2011 at 16:31










July 14, 2011 at 16:26




July 14, 2011 at 16:09







July 14, 2011 at 15:03