Prisencolinensinainciusol.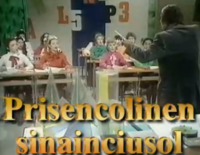 One of the time honoured methods of learning a new language is to buy a book you know well – written in your chosen new language. It used to be the bible – these days it is probably Harry Potter.
I learnt by buying reading books aimed at four year olds in French. They come with big pictures. The French are very keen on instilling a love of natural history and their glorious wilderness in their young. I might be shaky on the grammar at times, but I know my 'buse' from my 'épervier'. Incredibly useful when you want to buy the proverbial train ticket……
Another well tested method is to sing along with Beyonce…you will learn a strangely garbled language which will stand you in good stead if you find yourself being mugged by the local inhabitants in Peckham.
This piece of film was made 30 years ago, mocking the English that young Italians would learn by such a method. The Italian comedian, Adriano Celentano, imagined how pop music might look in 30 years time, compete with dance steps, if this learning method continued.
There is not a complete English phrase in the entire lyrics.
I'd say he was spot on, wouldn't you?
I give you 'Prisencolinensinainciusol'.
A prescient masterpiece.