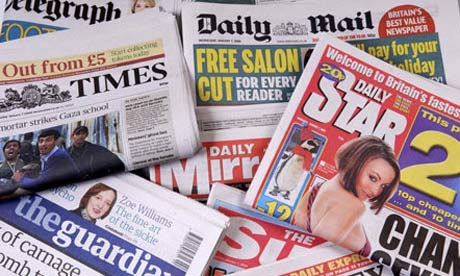 Around ten years ago, an old friend of mine, an ambitious, clever and talented journalist became the news editor of, as they say, a 'quality Sunday paper'.
'Congratulations, you must be delighted', said I.
'Harrumph', he said, 'that's the end of enjoying my job'.
'What? No more Editor insisting you cover some deadly boring story rather than follow your own tip off? I responded, remembering the many times he had complained of this.
'You don't understand' he replied, 'the editor doesn't set the agenda any longer, we put out an on line version late at night, and the front page story is whichever gets the most hits, it won't be my choice – it'll be whatever people were searching for late at night. It'll be all 'Cheap Viagra available in India' from now on, you watch'.
I'd never seen a computer then, didn't understand what he was on about, but his words have come back to haunt me more and more. He wasn't quite right about the Viagra, but you only have to look at the ever rising figures for the MailOnLine to see that the news agenda is set by Google search terms, not what a proper journalist would call 'the news'.
The profit driven main stream media respond to the number of people who want the latest gossip on Kate Moss rather than informing them of the facts and figures surrounding some portentous event. 'Kate Moss loses earring' ends up on the front page, the implications of the Greeks making a drachma out of a crisis pushed down to page 17 under the walk in bath adverts.
We can't entirely blame the media; the Blogosphere has played its part in the demise of real news. We forced the media to compete with us, we gloated as people stopped buying newspapers, and the media responded by trying to grow an on line audience.
When I first took a job as a moderator on a news aggregation site, I was stunned one night when a young boy, around 12, won a talent competition. The site reported it, and within minutes, literally, the site was receiving comments from children as young as 9 and 10, all avidly Googling his name.
We laboured through the night, deciphering txt spk – 'u is bad, i wnt u, i lve u' and removing the mobile phone numbers, addresses, details of when their Mum would be out, which school they went to. It was horrifying. Admittedly we had fun for a few days, sending each other backstage e-mails in txt spk, but it was an education into the fact that the on-line audience may represent 'hits' – but they are not necessarily 'readers', just part of the market that the media is now reduced to chasing.
As the purveyors of gossip to the on-line audience has grown, so has the pool of purveyors of fact shrunken. Reuters, to a mind of my generation, was the last bastion of fact. Short, sharp and to the point, fact. Not opinion, not regurgitated press release, not gossip, not space filling waffle – just ticker-tape fact that could be relied upon.
Not only relied upon, but used as the basis for possible further worthwhile research. They boast of the '10 absolutes of Reuters Journalism'; absolute No 7 is the duty to guard against putting their opinion into a news release. They themselves say their 'reputation rests on reliability'.
So if Reuters reports that someone has tried to commit suicide, you can safely assume that this is true, that they have the facts to back it up? Sadly, not at all. It seems that Reuters has joined the legion of media chasing 'search terms'.
I am not interested in which celebrity has slept with which footballer, nor in what private pressures of an unhappy life has darkened the world for someone who happens to be playing the lead character in a dire soap opera on TV.
I am interested in the fact that Reuters should push out a news report on their modern day ticker tape, based on speculation from a tabloid newspaper. That's not reporting the news, that's repeating gossip. Looking further into the story, we find that there was no one else present who could give an informed opinion, the man himself has declined to comment, the hospital has declined to comment, the police have declined to name the man, the only thing Reuters has to go on is the sheer speculation from an unnamed – and incontrovertibly uninformed – 'sauce' in the Sun that this was a suicide attempt.
If that has now become sufficient for Reuters to report as 'news', the main stream media may as well stage a mass public Johann Hari-kari event in Canary Wharf. At least that way they will have one last chance of serving up some genuine news to us.
Shame on you, Reuters.