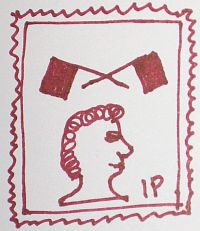 Laura Peony has kindly done another guest post.
Hello the blog.
I've started a new secret project; it's the homework for my "Increase your Wordpower" course. I've got to get as many obscure words as possible into the New Statesperson or the Guardian, and apply them where they don't quite fit in; sounding pretentious gets me a bonus point.
This week I did it with "Anhedonia" . Do you know what it means? It's a word about a symptom of depression:
Anhedonia is the inability to gain pleasure from enjoyable experiences.
It was first identified in the 19th century, but was largely ignored until the late 1980s in favour of more obvious depressive symptoms such as low mood, poor concentration, tiredness, disturbed appetite and sleep, and suicidal thoughts.
Anhedonia is now recognised as a core symptom of depression and research by the Institute of Psychiatry in London is throwing new light on the links between the brain and depressive illness.
This is the paragraph:
We like to think that we live in a liberal, permissive society – that, if anything, the problem is that there is too much sex about. This is a cruel delusion. We live in a culture that is deeply confused about its erotic impulses; it bombards us with images of airbrushed models and celebrities writhing in a sterile haze of anhedonia while abstinence is preached at the heart of government.
Don't tell Medhi, or he may get mardy.