Freebies on offer, roll up, roll up!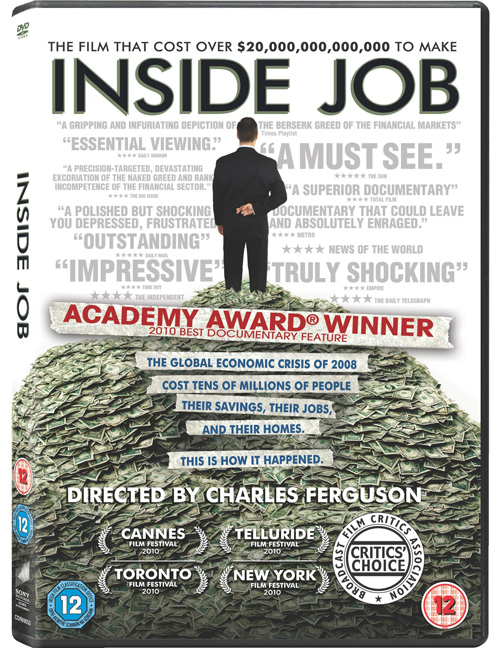 I've been doing well this week – first Stuart Fairney's book arrived in the post, then an advance copy of a riveting DVD. 'Inside Job'.
It genuinely is a riveting DVD; it's well made, fast moving, informative, a thoroughly professional film as you would expect from an Oscar winning film maker – Charles Ferguson.
120 minutes, 'as gripping as any thriller' (did I just quote the Guardian!!!) it aims to impress as a 'warts and all' look at the disastrous financial tsunami which has swept over the world.
My gripe is that some of the warts only made an appearance when they could be shown in a favourable light, the opposing view, which a balanced documentary should have, sought recourse to a few foreign warts to pad out the scenes.
As a keen political observer, I found that I was screaming at the screen as often as I do at the news on the BBC.
The film is heavy on the 'bash the bankers' front. There is a longish section on the rewards available to bankers – the yachts, the private planes, the estates on the Hampton's, are given the benefit of lingering salivating footage. The prostitution, the cocaine consumption is dealt with thoroughly; interviews, depositions, and the essential shot of supra-naturally high heels and comely ankles pounding a night time street.
The film starts with one of the 'foreign warts' – a ten minute section on how Iceland deregulated its banking system and the disasters that followed. Beyond that, deregulation barely gets a mention beyond being something that Ronald Reagan 'started'- those damn Republicans – and Obama, now post apocalypse, is definitely in favour of!
It fails signally to mention that Obama, and Clinton, was only too happy to lobby for the relaxation of the Glass-Seagal Act which gave his voter base the opportunity to buy an all American home (one of my earliest posts!) for a mere handful of dollars down and no questions asked.
Once upon a time, banks were started by wealthy industrialists. They used their own money. Naturally they were rather keen to see that not only did they get their money back, but they made a profit on it. They took a long hard look at the people who wanted to borrow money and if they didn't like what they saw, they didn't lend them anything.
The banking industry had been seeking the repeal of the 1933 Glass–Steagall Act since the 1980s, if not earlier. Of course they were. Drug dealers have been seeking the repeal of Narcotics laws. Fishermen want the repeal of fishing quotas. It was Clinton who bowed to their demands with the Financial Services Modernization Act of 1999.
Neither bankers nor regulators 'make' the law, politicians do that. Whilst the film spent a long time exploring the 'back story' of the Regulators – surprise, surprise, they all turned out to have previously held high positions in the banking industry; what did they expect? Professional Fishermen? Deep Sea Divers? There was very little, seconds if that, of the role that Politicians played in all this.
No exploration of why they wanted deregulation – what was in it for them – Obama, Gordon Brown?
As far as this film was concerned, there was only one guilty party – the bankers, ably abetted by the regulators who were ex-bankers. As though they operated in a void.
If you get a job as a double glazing salesman, and you earn 10% of every sale you make – do you stop when you have reached what you think is a 'moral level' of remuneration? Do you reflect on the problems you may be storing up in the developing world when all those plastic windows end up in land fill? Do you Hell! You sell as much as you have the energy to do so, and enjoy your good fortune while it lasts.
Quite why it is so popular amongst a particular political persuasion to blame the salesmen and not the politicians who changed the law to permit the product to go on sale is beyond me. Bankers are salesmen; they will sell whatever they are allowed to sell.
None of which should take away from the fact that this is an excellent film, that will explain the complex financial instruments used in a most enjoyable and accessible way.
It went on sale yesterday at http://www.sonypictures.co.uk/ for £19.99. 'Inside Job'.
No, I haven't been paid for writing this, but since they were kind enough to send me a free copy, it seemed only polite to let them know what I thought of it.
So – who would like to watch it next? I have a copy sitting on my desk…..
Last commentator gets it….Dutch auction!
June 15, 2011 at 10:57







June 15, 2011 at 10:56




June 15, 2011 at 05:04




June 14, 2011 at 22:39




June 14, 2011 at 20:42




June 14, 2011 at 17:37




June 14, 2011 at 16:05




June 14, 2011 at 15:52




June 14, 2011 at 14:46







June 14, 2011 at 13:02







June 14, 2011 at 13:00