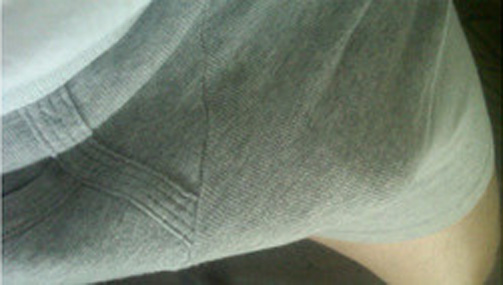 The Schnitzel, as any good cook will tell you, is a lump of immature meat, encased in a crust. The only way to make it edible is to beat it within an inch of its life, and then plunge it into boiling oil. Mrs Weiner must be sorely tempted to take my culinary advice.
For there is a Mrs Weiner, despite the good congressman's desperate attempts to woo diverse cyber females into partaking of his crusty delicacy. What an interesting character she is.
I had expected this morning, on learning that the poor lady has just proudly announced her pregnancy to 'close family friends and family' – and the rest of the entire world as the news spreads round cyber land – to be defending another 'Mrs Blunt', another vulnerable lady left to pick up the pieces as her husband's infidelity is fed to the main stream media for our delight.
Far from it – though that doesn't lessen my initial reaction that rather than super-injunctions and judicial threats to Twitterers, if we really must have new laws, perhaps a 'blanket law', automatically awarding the entire family estate to any partner left embarrassed, humiliated, pace Giggs, belittled, pace Blunt, or defamed by their partner's inability to control their wish to advertise their sexual immaturity as widely as possible, would be a more effective way of clearing the main stream media of the endless tittle-tattle.
However, Mrs Weiner is special. Very special.
She started her working life as an intern in the Clinton's sexually charged offices. Some internship, awarded to only a few lucky girls. Mrs Weiner had the good sense to align herself with Hilary, rather than Bill. Smart move. She has made remarkable progress.
Her Wikipedia biography says that she started working there in 1996. By 2003, 7 years later, she was earning the princely sum of $9,000 a year. Not a lot to support a Washington lifestyle on.
In 2006, now listed as Senior Adviser, her salary had increased by a miserly $999.96 – not even a 10% pay rise; and yet she was able to purchase a $530,000 apartment in central Washington. She is famed for her collection of designer clothing, Oscar de la Ranta, Maladrino, Pravda, and is described as having a weakness for Yves Saint Laurent handbags. The Clinton's attorney is quoted as saying that in the 11 years he had known her, she had never worn the same outfit twice.
She doesn't come from an apparently wealthy family – her Father who died when she was 17, was an Islamic academic, and her Mother a university professor. Neither professions renown for their ability to create wealth. Her Father, however, was able to found the 'Institute for Muslim Minority Affairs' in Saudi Arabia, for which her Mother remains as a Director. The Saudi regime are known to spend billions of pounds each year promoting Islam and donating money to foundations which support Wahhabism.
Does any of this matter? Perhaps. For Hilary Clinton has long harboured Presidential ambitions. She is known to engage in the unorthodox practice of supplementing her 'staffers' salaries with payments from her $13 million campaigning war chest. What could be more useful than a staffer with family connections to a limitless supply of money?
Today, Mrs Weiner is Hilary's 'Chief of Staff', in North Africa with her, her closest personal aide; apparently deciding, as the Americans like to do, on Ghadaffi's fate. She may still be a 'vulnerable lady' who's new pregnancy has been announced against a background of seedy sexual confessions from her husband, but she is sitting next to Hilary Clinton – a lady who can tell her a thing or two about rising above a mere male's peccadilloes.
Mrs Weiner is the mysterious Huma Abedin, a lady whose biography is littered with possible links to Saudi intelligence, and even more dramatic links to a suggested liaison with Hilary Clinton that goes way beyond Bill's short lived sexual liaisons, and hints at a strong romantic and emotional commitment.
Weiner's Schnitzel moment is forcing one of Washington's most persistent political rumours out of the closet. Edited to add: Oh go on then, you prurient lot. Definitely not safe for work…the Schnitzel revealed, courtesy of Andrew Breitbart.



June 10, 2011 at 08:08




June 9, 2011 at 22:40




June 9, 2011 at 21:26




June 9, 2011 at 18:55




June 9, 2011 at 18:44




June 9, 2011 at 16:59







June 9, 2011 at 13:58




June 9, 2011 at 12:44







June 9, 2011 at 12:41




June 9, 2011 at 12:13




June 9, 2011 at 12:12







June 9, 2011 at 11:37







June 9, 2011 at 10:36




June 9, 2011 at 09:20










June 9, 2011 at 09:15