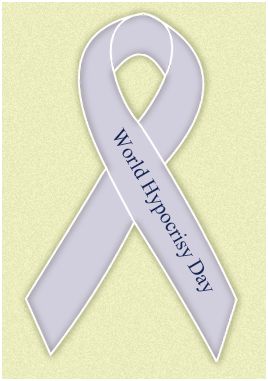 We should really celebrate some of the magnificent examples that surround us at the moment. Perhaps a sludge grey ribbon lapel button or a badge with an upside down principle, or even better, one of those mobile 'game' badges, where you can manoeuvre the principle into one of a number of positions; certainly a day off school for all the children.
First up in the 'anybody-mind-if-I-scream-at-the-television' stakes was the Archbishop of Canterbury. Forgetting for a moment that he is supposed to be non-political, and thus his stint at the coal face of the New Statesman prevented someone eminently qualified from taking the Editors seat, we have the spectacle of an unelected archbishop, on behalf of a never seen leader (who demands unstinting obedience to set-in-stone rules that were apparently carted down a mountain 2,000 years ago) complaining that David Cameron's actions as leader of the coalition government were 'undemocratic'! Yes, well, David does have the odd vote stashed away in his pocket, certainly one or two more than you, flower.
Continuing with the Editorship theme for a moment, we have Jemima Khan taking over editorship at the Independent. Remind me again, what was it that separated us socially inadequate, pimpled, single, slightly seedy, bald, cauliflower-nosed young blogger's from the qualified, only-truth-telling, impartial main stream media? Wasn't it the years of training and the years of apprenticeship?
Surely if socially inadequate, slightly balding, grey haired and bearded old men who believe the voices in their head and young gals around town with nothing more to offer than a one time marriage to a Pakistani cricketer and years of expensive spa treatment can just set up shop with a lap top and desktop publishing and call themselves editors, then the main stream media have just lost the high ground; proved conclusively that any socially inadequate, pimpled, single, slightly seedy, bald, cauliflower-nosed moron can do their job?
My favourite hypocrisy of the day has to be this one.
Brothers-for-life.org. Never heard of it? What a salacious, promiscuous life you lead! They are an organisation dedicated to campaigning for men to remain with one partner for life.
This campaign which targets mainly men aged 30 and over seeks to address the risks associated with having multiple and concurrent partnerships, sex and alcohol…
No more shagging around. 'Do the right thing' screeches their web site!
They appoint Life Ambassadors to promote their beliefs around the world. Men with power, money, spotless reputations.
Good for them!
"Lending their names to the Brothers for Life campaign is 'simply the right thing to do', say some of South Africa's leading sports stars who have signed up as Brothers for Life."
Not just South African leading sports stars either – look at the International footballers who have followed them.
South African footballers Teko Modise and Matthew Booth, South African rugby captain John Smit, South African cricket captain Graeme Smith, Bulls rugby player Tiger Mangweni, and….er….um…whoops-a-daisy….international football superstars Ryan Giggs (Manchester United), Patrice Evra (Manchester United), Mame Biram Diof (Manchester United), Lionel Messi (FC Barcelona), Yaya Toure (FC Barcelona), Thierry Henri (FC Barcelona) andKeita (FC Barcelona), have all stood up in support of Brothers for Life and taken to heart its slogan, "yenza kahle" (do the right thing).
Would that be the same Ryan Giggs who offered his 'brother-for-life' £250,000 today to keep his mouth shut?
Shurly we should be told?