Carpetbagging the women of SOE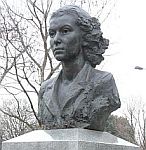 This week in the Lords there was a debate about the need to recognise the 'women of SOE'. As Baroness Crawley put it:
In this Question for Short Debate, I am revisiting the history of the women of the Special Operations Executive F Section, while acknowledging the tremendous debt that we owe to all members of the SOE. I am asking out loud whether the Government agree that not enough has been done to commemorate them formally.
Baroness Crawley is a former MEP and Chair of the Womens National Commission. She highlighted a few current initiatives:
I will mention those who, over the years and up to the present day, work to keep alive the memory of these outstandingly brave women. In this respect, I mention Shrabni Basu and the Noor Inayat Khan Memorial Trust, currently raising funds to build a statue to her in Gordon Square in London. I mention the Violette Szabo Museum in Herefordshire, run by Miss Rosemary Rigby, who I had the pleasure of meeting recently. I also mention the efforts mounted by Madame Szabo's daughter Tania, who has commemorated her mother in a wonderful book and website. More generally, we know, of course, of the work done every day by the Royal British Legion and other bodies, such as the Allied Special Forces Association. Plenty of people care very deeply about this.
Is it just me who thinks this is being laid on slightly too thickly, and that there's a bit too much politics going on in the search for convenient heroes? I've read most of the SOE books over the years, and I think I can recall the names of more SOE female agents than male.
Only in 2009 we had a new memorial to SOE created on the Albert Embankment, where the bust was of Violette Szabo, sculpted by Karen Newman: (Photo source)
And, as the Baroness stated in the Lords, there may soon be a memorial to Noor Inayat Khan in Gordon Square.
In addition, we have museums and memorials scattered around the UK, Europe and the world, from plaques in concentration camps: (Source: Memorialgrove.org.uk)
and the Valencay memorial in France, to specific museums in the UK and elsewhere, at places such as the National Memorial Arboretum, and memorial plaques at places where they lived.
So I disagree with Baroness, there is no danger of the "Women of SOE" being neglected.
There is more a danger that they will be given a walk-on-part by modern figures in search of visual aids.
That, I do not like.
Matt Wardman blogs at The Wardman Wire, on media, politics and technology, in addition to writing at the Raccoon's burrow.